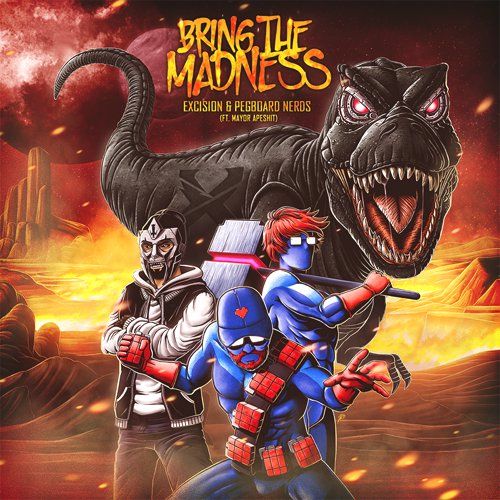 Excision & Pegboard Nerds – Bring The Madness (feat. Mayor Apeshit)
Canada's no-fail dubstep demi-god, Excision, just teamed up with Danish/Norwegian duo Pegboard Nerds and Mayor Apeshit to release an explosive new collaboration, "Bring The Madness" on Canadian label, Monstercat. Ever since fans got a taste of this out-of-this-world track in Excision's 2014 Shambhala mix, it has been one of his most highly anticipated releases.
"Bring The Madness" has a lot of excitement packed into its 3 and a half minutes and it's nothing short of professional production magic. It boasts a crispy, clean theatrical introduction that only gets fiercer with the addition of Excision's quintessential, in-your-face vocals and a unique low-toned, scratchy dubstep drop. The track reaches its pinnacle with an unexpected DnB breakdown to top off the second drop before beautifully settling down with a thoughtful, yet subtle outro. "Bring The Madness", which you can purchase here, is a perfect fusion of the creative musical minds of Excision and Pegboard Nerds, making it a must-hear for dubstep fanatics.