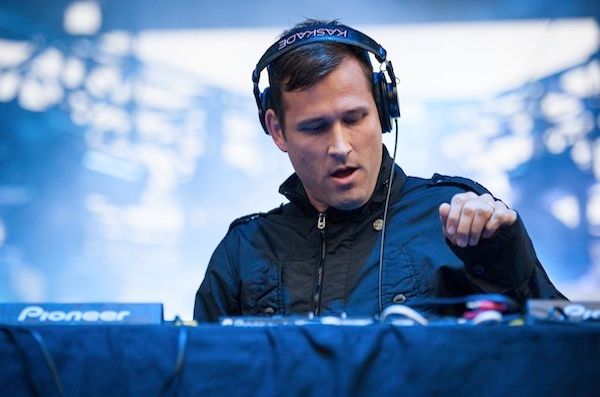 Kaskade has long been an ambassador of dance music, a spokesperson for the genre. He has been at the forefront of discussions on controversial issues such as copyright protected music and the dangers of drugs at shows. He made waves back in December when he announced his label, 'Arkade', and he has historically supported musical freedom from record labels and copyright laws. Kaskade has released eight albums throughout his career, all on independent record labels such as Om Records and Ultra Records. With such a long history of straying from the corporate conglomerates, it was surprising to hear that he signed a contract with Warner Brothers for two albums.
Although the move may seem hypocritical, Kaskade says that it stemmed from a desire for his music to be heard by as many people as possible. He admitted that he was hesitant to sign with a major, but was ultimately swayed because they can best help him distribute his music.
It was important to me that my voice not be lost, and that anyone I'd do business with understood that I enjoy songwriting, singing, writing and producing. I don't need the factory behind me, I just need someone to help me get my music heard by as many ears as possible
Kaskade discussed multiple issues after announcing his signing with Warner Brothers. He hinted at new music, saying that he "spent most of 2014 in the studio so there will be new music in 2015 for sure." He also discussed the possibility of an eventual radio hit, something he has never had. Claiming that "this is part of why I signed with Warner", Kaskade said he would be happy with a radio hit, although it is far from his focus or goal. It is clear that Kaskade is excited about the evolution of dance music, and by signing with a major label, he seems ready to reap the rewards. Knowing his public reluctance to sign with a major label, he went to great lengths to defend his decision in an interview with Billboard and he seems eager to do the same in a Reddit AMA set for January 14th.
While the move is undeniably a big one for Kaskade, it is a huge step for Warner Brothers. Although they had previously been removed from the electronic music crowd, they seem to have taken a giant step forward. They had significantly expanded their dance music capabilities back in May of 2014, and they now have successful partnerships with EDM-centric labels such as Three Six Zero and Parlophone's FFRR imprint. With the signings of Kaskade and The Prodigy, Warner Brothers is clearly trying to exploit the ever expanding and profitable dance music market. We can only hope that they manage to do this without sacrificing the artistic integrity that the accomplished producer has worked so hard to protect.