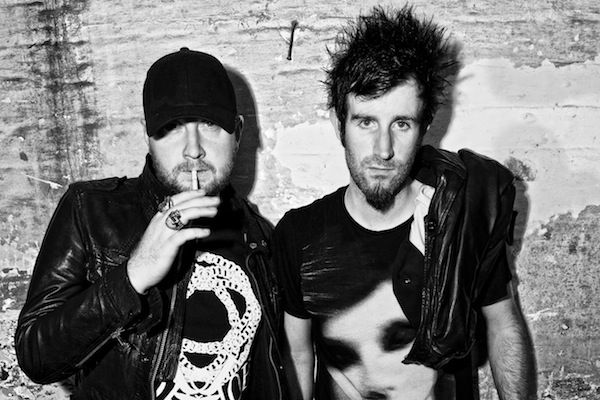 With this being the last weekend before The Guvernment closes its doors for good, the Toronto dance music community has been experiencing a whirlwind of emotions. Unfortunately, there was a lot of disappointment, confusion and bitterness in the Guv air last night, as Knife Party left many fans scratching their heads.
Rob Swire and Gareth McGrillen took to the stage at roughly 1:30 am to play one last set at the historic venue. The guys put on a fantastic show, but attendees were upset when at around 3 am, their hit song "Bonfire" began playing and the duo announced that this would be their last track of the night. While a 90 minute set may be expected at other nightclubs, The Guvernment is known for its marathon sets, including a record-breaking 11 hour set from Markus Schulz earlier in the year and a 6 hour one from Armin van Buuren that took place just one night earlier.
After they got off the stage, Swire and McGrillen were bombarded with Tweets from unhappy fans who were hoping for a longer performance due to the importance of the evening and the fact that tickets were going for $120 at the door. Toronto fans have always welcomed both Pendulum and Knife Party with open arms and according to a Tweet from McGrillen, The Guvernment was, "the first club i ever stepped foot in outside of the uk, well over ten years ago". That being said, it looks like that love took a serious blow last night, as there was quite the social media war between upset attendees and the Knife Party guys.

Look, we're real sorry your nightclub is closing down…and opening again 5 minutes away, but we get told "play 90 mins" = we play 90 mins.
— Knife Party (@knifepartyinc) January 25, 2015
Toronto needs more PLUR…kinda surprising, given the amount of people on MDMA last night.

— Knife Party (@knifepartyinc) January 25, 2015
@ZunicandBernard that's right, you're special. you're a precious little snowflake. — Knife Party (@knifepartyinc) January 25, 2015
@realsebastienn Oh well, go see Armin then. We've been going for 3 years, it's not like we have a massive repertoire to choose from.

— Knife Party (@knifepartyinc) January 25, 2015
@Kiiki_J a) we had no idea tickets were so expensive. b) we were asked to play "for 90 mins" and had no idea that actually meant "6 hours". — Knife Party (@knifepartyinc) January 25, 2015
For what it's worth, we had a great time at Guvernment…apologies to all those people expecting the 4 hour trance mix of Internet Friends. — Knife Party (@knifepartyinc) January 25, 2015
Ultimately, for the amount of time they did play, Knife Party put on a great show. Phenomenal opening and closing sets from resident DJs Mark Oliver and Manzone & Strong also contributed to the night's success, making many people's last Guv night a memorable one. Hopefully, tonight's grand finale goes off without a hitch, but with controversial Toronto native deadmau5, who also chimed in on the situation, sending the club off, we imagine it will be an eventful evening to say the least.
@knifepartyinc wait till everyone finds out my set is only 18 minutes. — deadmau5 (@deadmau5) January 25, 2015
Photo by: Matt Eachus