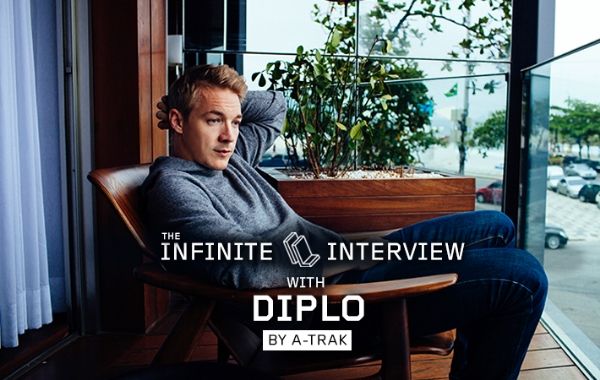 A-Track is arguably one of the busiest men out there. And if being the head of a label, touring DJ, and balancing producing between a number of different projects wasn't enough, he also runs his own travel website called 'Infinite Legroom'. A-Trak has started an interview series where he takes the opportunity to chat with touring DJs and artists, and finds out what makes them tick, their influences, and all the deeper sides of what makes them who they are.
The first act to kick off this interview series is none other than Diplo. Being long time friends, the two easily opened up to each other for a rare opportunity to learn some facts you may not have known about such a star-studded artist. The extensive interview is interesting and inclusive, but we have saved you the time by listing the five best facts you probably didn't know about Diplo. . .
The biggest names who transformed a young Diplo were Big Dada, Stretch, and Low Budget:
These three acts impressed upon an up-and-coming Diplo the multitude of different mixing styles one can take on a set. Mixing rock records over hip-hop drum breaks and tracks was something that opened up a whole new world to him, and that was combined with Low Budget's ability to play to a much tougher crowd.
RJD2 taught him how to produce records:
He started off with only a sample and a multitrack recorder, using the older workstation called Acid to get his initial ideas down. Diplo jokes that he doesn't think RJD2 even liked him at the time when he took Diplo under his wing, but his knack for sample based music and numerous tracks on a single song were eye opening.

In his 20's, he worked for the Red Cross:
When he was only 20 years old, his first time leaving the United States was working for the Red Cross. He was stationed in India for 6 months, and during the time he said he purchased a motorcycle which he rode around and smoked weed.
His career path before DJing was teaching:
While he admits that his days at Birney Elementary in Philly were driving him crazy, he states that he got the majority of the artwork for his initial releases from the childhood artwork of the students there.
His 'Florida' playlist that was uploaded three months ago defines the first 23 years of his life:
He made this entire album between being at his apartment in Philadelphia and his brother's place in Florida. During this time he was hoping on busses throughout the cities and smoking weed, all the while coming up with the craziest ideas he had ever put to music. While these records were made ten years ago, Diplo is excited to revisit them in their rerelease.
Via Infinitelegroom