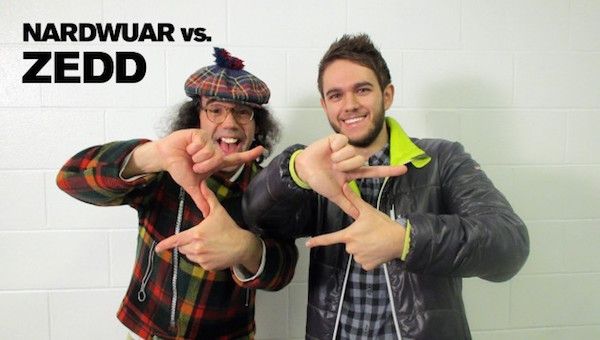 Just to preface this article, if you are not familiar with the unique and absolutely rollicking interview style of 
Nardwuar the Human Serviette
, do yourself a favor and check him out. Seriously though, you will not regret it.
Anyways, the Vancouver, British Columbia, Canada-based interviewer extraordinaire has returned to grill another big name in the electronic dance music scene, and this time it is Zedd. Having already schooled the likes of Diplo, Dillon Francis, and Flosstradamus on themselves, Zedd joins the party as Nardwuar drops some interesting factoids that Zedd was not even aware about, including some details about his mother's life… Scandalous, indeed.
This was definitely one of the more gift-heavy installments as Nardwuar delves into Zedd's rich musical past, citing everything from childhood performances of George Benson's 'Weekend in LA' to providing him with a old school setlist for his Contact Music Festival performance later that evening. So if you have some time to kill, definitely check out this fantastic interview of fan-favorite Zedd, and as always let us know what you think!