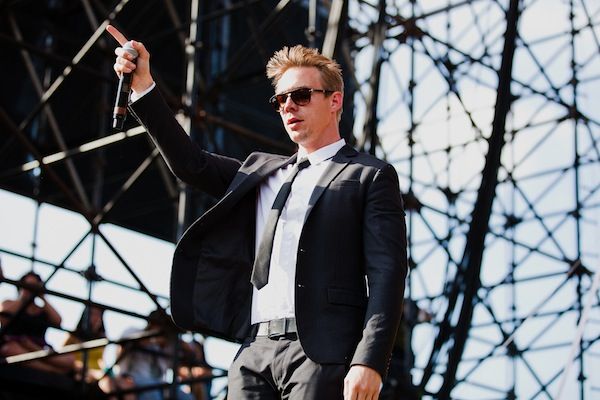 Having just squashed his longstanding beef with Taylor Swift, Diplo seemed to have it all under control. It didn't take long, however, for him to find himself in more social media squabbling. As part of a cheeky preview of the upcoming Jack U rework of "Take U There" featuring Missy Elliott, Diplo filmed a seemingly random cartoon snippet with the track playing in the background and posted in on Snapchat. As it turns out, the random cartoon was a gif created by Brooklyn illustrator Rebecca Mock and used without her permission. She took to Twitter to call out the producer, and Diplo's questionable response turned more than a few heads.
this morning I informed @diplo I didn't want him stealing my work to promote his music-his response was to dismiss/harass me & my peers.

— Rebecca Mock (@rebeccamock) February 11, 2015
Looks like he's not done w/ his slander and harassment. Clearly he's got no better life plans, so plz do me a favor and ignore his existense — Rebecca Mock (@rebeccamock) February 11, 2015
First of all, fuck you. Secondly, fuck you. And last but not least, fuck you pic.twitter.com/U62Nkn1S2p

— Em (@strigiformes) February 11, 2015
@CalypsoSings @rebeccamock good to fight for something !!! #gifrights — Giflo (@diplo) February 11, 2015
But it didn't end there, as Diplo kept the the hits coming until the spat attracted the attention of Portishead member Geoff Barrow, who decided to jump in on the Twitter pummeling.
@jetfury in pretty sure all of my music can be a LOT better.. I just hope that I can stay inspired.. Sounds like you lost your way .. — Giflo (@diplo) February 12, 2015
@jetfury let's be honest … If anyone takes me seriously then they actually must have a problem .. Music is fun its not algeba #algeba — Giflo (@diplo) February 12, 2015
@jetfury I just pray to the lord I don't become a salty asshole when I'm irrelevant
Although it may have been a bad one, he ended up apologizing and even changed his Twitter name to 'Giflo'. There is no denying that Diplo can be an idiot sometimes, but we do thank him for keeping things entertaining and giving us some material to write about.
New rap lyrics – got rich quick from stealing gifs, bitches hating but I'm straight animatin . Cartoons big like Walter Payton #debating — Giflo (@diplo) February 12, 2015
To all the gif artists out there.. Sorry for bumming you out .. .. pic.twitter.com/VETGgvUwFs

— Giflo (@diplo) February 12, 2015
Source: inthemix