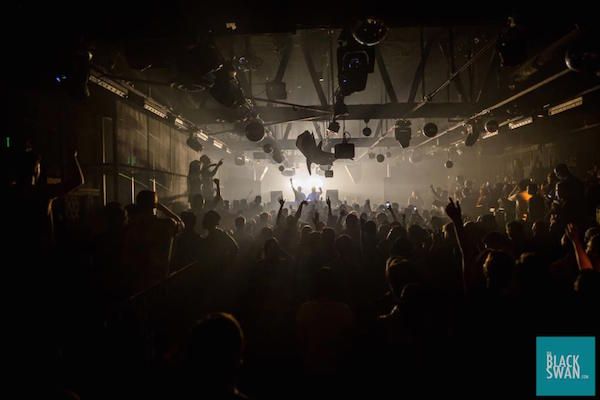 Often times Thursday is seen as a trial day for both artists and clubs. It allows the artist to play some different songs and judge crowd reaction. It allows the clubs to bring in acts that maybe are not as big named as those who play in the club on Friday or Saturday. In either case, it is rare to go to a club show on Thursday and be truly blown away by what you saw that night, but that is exactly was happened to me at Sound Nightclub in LA last Thursday. The event, which was thrown by the up and coming production company InDeep out of Los Angeles, featured an incredibly impressive and diverse lineup featuring Hotel Garuda, SNBRN, Dr. Fresch, Matt DiMona, Rambo V, and The Interns.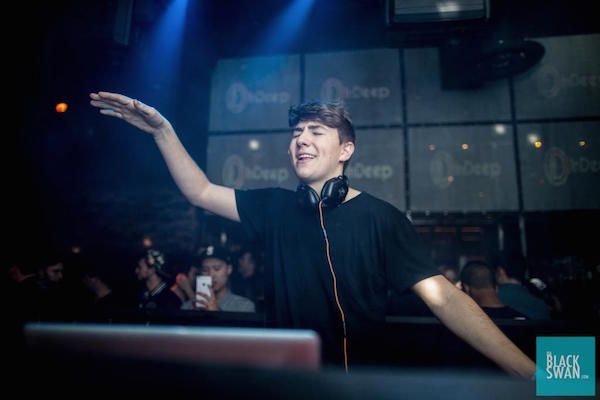 Doors were scheduled for 9:00 but did not end up opening until around 9:30, and as the first fans entered the club they were greeted by The Interns and then Rambo V, who both did a terrific job of playing the role of an opening DJ. An almost universally unappreciated art, they both took care to play deep house sets that progressively built the energy of the room so that by the time that Matt DiMona took the stage at 10:30, the already near capacity crowd was in weekend mood on a Thursday. Dropping his brand new remix of Maroon 5's 'She Will Be Loved' right out of the gate, the hour that Matt played was filled with his own house remixes of pop and rap songs, really playing to the energy of the crowd in attendance. It was also during Matt's set that one of the first big surprises of the night happened, with Dr. Fresch and SNBRN, less that an hour before their set, walked through the crowd with two 70 inch pizzas from Big Mamas and Papa's Pizzeria, helping to refuel those in attendance, trying to make sure they had enough energy to  make it till the 4:00AM close. A little gift from the promoters to the fans, it was a unique gesture and one that was definitely appreciated by those lucky enough to get a slice.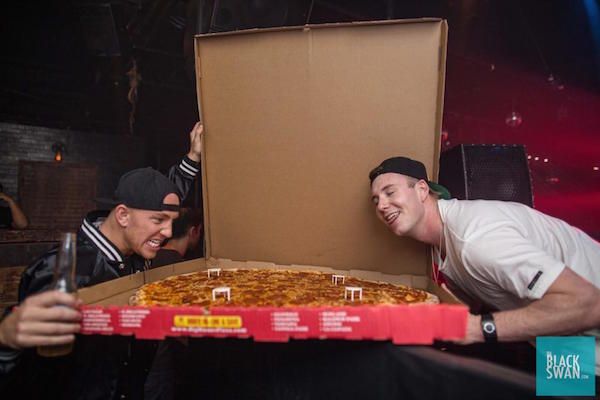 Following their side gig as pizza delivery men, SNRBN and Dr. Fresch took the stage at 11:30pm for what was supposed to be a B2B set, but instead turned into a massive combined set for the two best friends. Feeding off of each others and the crowd's energy, the two friends launched into an hour and a half of high energy pure house music, ranging from. One of the most memorable parts of the evening was when they played SNBRN's newest single, Raindrops, for what was announced to be a sold out crowd on Thursday night. Around 1:00am, SNBRN and Dr. Fresch gave way for the last planned performer of the evening, Hotel Garuda. Usually comprised of Manila Killa and Candle Weather, this Hotel Garuda performance featured only Candle Weather, but that did not stop him from delivering a classic Hotel Garuda set. Much more of the minimalist than SNBRN and Dr. Fresch before him, Hotel Garuda brought the crowd back to the deeper side of house music. Playing for an hour, one of the highlights of their set was when they dropped Boogie Vice's 'Bel Air', a remix of the Fresh Prince of Bel Air theme song, which has been a staple of their sets for months.
Despite the fact that Hotel Garuda finished their set at 2:00am, the show was scheduled to go until 4:00am, which means that there was still something special in store for the fans. And those that were still there were not disappointed when Mija, Skrillex's protege, and Ghastly took the stage for the surprise late night set. Compared with the upbeat deep and electro house that had been played for most of the eveing, Mija and Ghastly brought with them to the decks their own unique style of dirty and bassy house, including their collaboration, 'Crank It' featuring Lil John. The two young guns closed out the night in style, hitting the decks until close.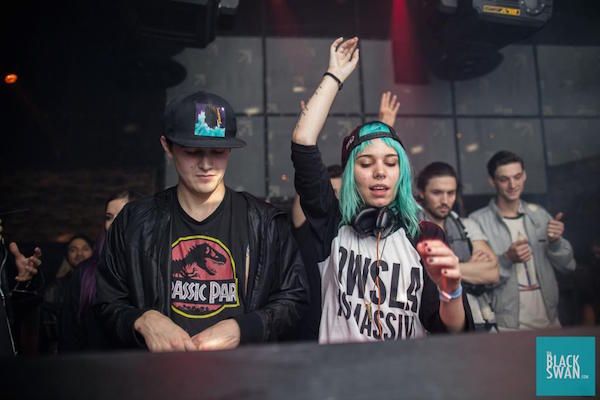 Overall the night had to be classified as a massive success no matter who you were. For InDeep, to put together a lineup such as this and then sell out the show was no small feat and deserves a tremendous amount of praise. For the DJs, it was obvious they were having an amazing time playing for the sold out crowd with some of their best friends. And finally, for the fans, the chance to see this amazing lineup for only $10 to $20 had to be considered a steal. A huge shout out to our friends over at DUBS for keeping us protected from one of LA's most advanced sound systems with the help of their state of the art ear plugs. Here's to having more Thursday nights like this in the future, because this one will be hard to beat.
Photo Credit:  Da Black Swan