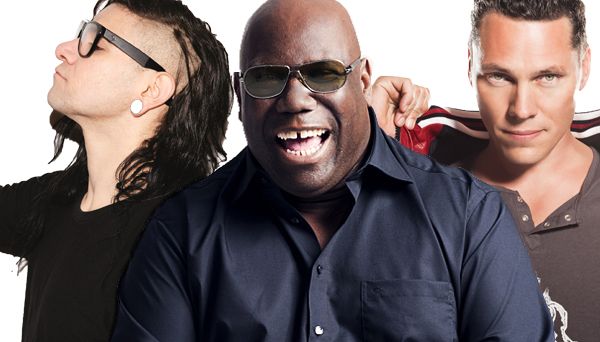 Next month, the legendary WMC celebrates its 30th year of bringing artists, representatives and fans to Miami Beach and the nominees for the 30th Annual International Dance Music Awards (the IDMAs) have been announced. The awards over 57 categories related to the dance music industry, from Best Underground Dance Track to Best Remixer to Best Music Event.
"One of the most anticipated annual events on the global music calendar (and the only longstanding awards event dedicated to the EDM industry), the IDMAs generate over two million votes from music enthusiasts in 209 countries and territories every year to recognize and honor exceptional achievements in 57 award categories. This is the industry highlight at the center of WMC Week. Another unique aspect of the IDMAs is the convergence of industry legends and emerging talent alike. As part of its mission statement to serve as a platform for the advancement of the industry, the IDMAs place particular emphasis on innovative artists and industry. As music continues to evolve the IDMAs have emerged as an essential platform for career launching appearances."
The IDMAs also award Best DJ awards in 13 different categories: Best Global DJ, Best North American DJ, Best European DJ, Best Break-Through DJ, Best EDM/Pop DJ, Best Trance DJ, Best House/Garage/Deep House DJ, Best Indie Dance/Underground DJ, Best Progressive House/Electro DJ, Best Techno/Tech House DJ, Best Dubstep/Drum & Bass DJ, Best Hardstyle DJ and Best Podcast or Radio Mixshow DJ.
Amidst all the distinction, the award for Best Global DJ carries heavy significance.  Last year, Hardwell emerged victorious from a pool of nominees that was pretty similar to this year's lot.  For the 2014 awards presented next month, Avicii, Afrojack and deadmau5 have been bumped out of the category by Carl Cox, Martin Garrix and Skrillex.
2013 Best Global DJ
Afrojack
Armin van Buuren
Avicii
Calvin Harris
David Guetta
Deadmau5
Hardwell (winner)
Tiësto
Nominees for 2014's Best Global DJ
Armin van Buuren
Calvin Harris
Carl Cox
David Guetta
Hardwell
Martin Garrix
Skrillex
Tiësto
This year, Afrojack and Avicii compete in the Best European DJ category, while Avicii and deadmau5 are both nominated for Best Solo Artist and Best Producer.  With the IDMAs, there are plenty of awards to go around and a commendable recognition of the wide variety of styles within dance music.  It will be interesting to see if this year's Best Global DJ award goes to Hardwell once again (seemingly echoing the results of the DJ Mag Top 100 DJs) or if perhaps Carl Cox, Skrillex or Martin Garrix can trump the category heavyweights for an upset victory.
Click here to check out the full list of categories and nominees. Once you've checked out all the nominees, cast your vote here. Voting ends March 2nd.