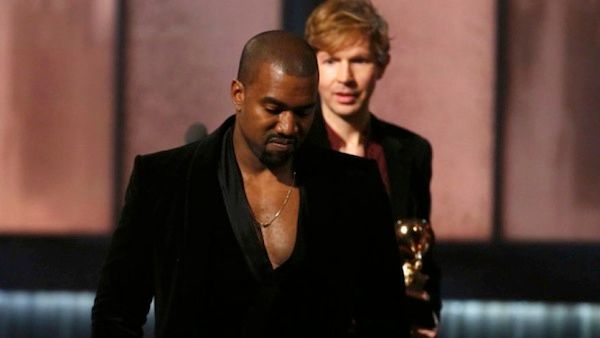 In a tradition dating back to at least 1984, when Madonna writhed around on the floor of the first ever MTV Video Music Awards, music-based award shows have always delivered both landmark performances and "water cooler" moments involving some of the biggest names in the industry. In what was arguably one of the most talked about award show moments in recent memory, Kanye West interrupted Taylor Swift's acceptance speech at the 2009 VMAs to declare that Beyoncé had the best album of the year.
Seemingly coming full circle, Kanye again rushed the stage at last night's GRAMMYS. When singer-songwriter Beck pulled the biggest upset of the night, beating out Beyoncé for Album of the Year (a category that the songstress was heavily favored to take home), Kanye briefly took the stage before quickly restraining himself and returning to the audience. While many thought the stunt was a joke, Kanye made it clear he was very serious in the notion that Beyoncé was again robbed. In an interview at E!'s after-party, Kanye said:
"I just know that the Grammys, if they want real artists, to keep coming back, they need to stop playing with us. We ain't gonna play with them no more and Beck needs to respect artistry and he should've given his award to Beyonce. Because when you keep on diminishing art and not respecting the craft and smacking people in their face after they deliver monumental feats of music, you're disrespectful to inspiration. And we as musicians have to inspire people who go to work every day, and they listen to that Beyonce album and they feel like it takes them to another place."
Beck, thankfully, took the whole scene in stride, jokingly waving Kanye back on stage. Also amused by the spectacle was Jay-Z, and Beyoncé herself, who are now the stars of a massively popular Vine that shows the couple's horrified and amused reactions.
Speaking of the "VMA moment", West met up with his old pal Taylor Swift at some point during the night and posed for some photos. Although the two may look like best buds in the pictures, we doubt that T-Swift will be hanging out with Yeezy and Kim any time soon.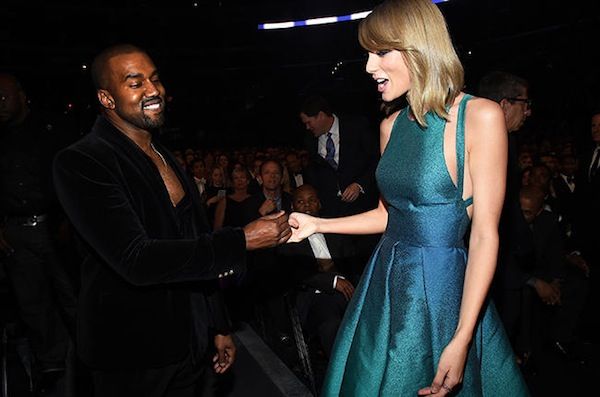 Speaking of burying the hatchet, Swift also decided to 'shake off' her feud with Diplo. The superstar producer made some harsh comments about her 'booty' a few months ago and received some serious backlash for it. Fortunately, it looks like the two are civil now and we can only hope that a Taylor Swift and Taylor Spliff (Diplo) collab can come from it.