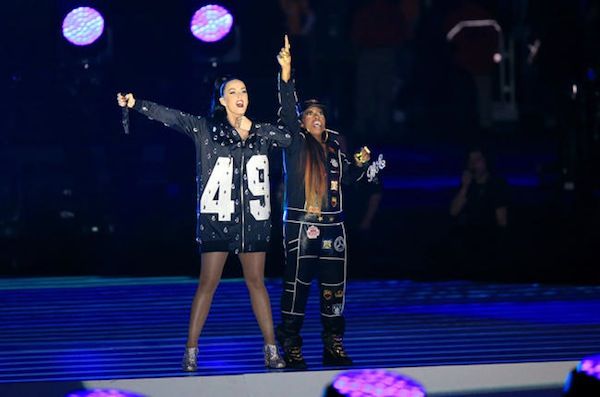 Missy Elliott's surprise performance during this year's Super Bowl halftime show has proven to be a huge resurge for her career. The second she appeared onstage and on all of our television screens, Missy reminded America why we loved her so much and why we still love her today. Within hours after her performance, three of the rapper's singles, "Work It", "Get Ya Freak On" and "Lose Control", started trending on iTunes' top 10 chart.
Although her Super Bowl appearance may have seemed to come out of left field for most of us, Missy has apparently been putting in some serious studio work recently. Rumors have been swirling around that Missy Elliott will have two featured verses on Jack Ü's upcoming remix of their hit single, 'Take Ü There'. Now that the attention has been re-focused on the queen of hip-hop herself and the news of a potentially huge collaboration, Missy has the chance to capture the attention of America's musical masses for a second time. It's clear that everyone was more than excited by Missy Elliott's surprise guest appearance at the Super Bowl and a possible track with Diplo and Skrillex would be an explosive way to emerge back on the scene.
Update 2/18/15:
The Missy Elliott remix is finally out, you can check out our thoughts here!


Update 2/11/15: 
Last night, Diplo teased the remix in a series of Snapchats and by the sounds of it, Missy murdered the remix. Check out the clips below along with the recap video from Jack Ü's historic NYE show at Madison Square Garden: