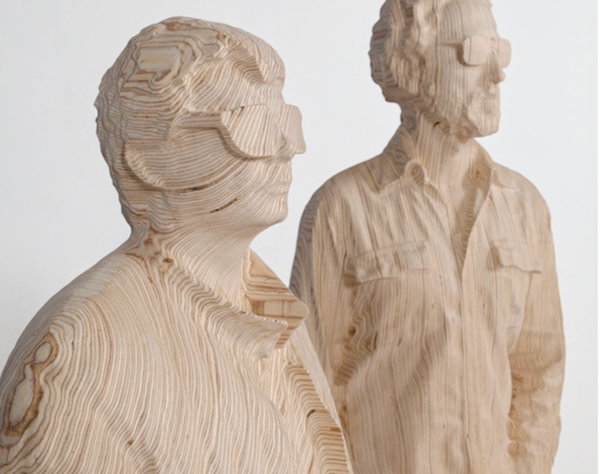 The ambiguous French duo Daft Punk have always made a conscious effort to refrain from standing in the lime light that is, when the focus is not on their music. Past beyond memory, the pair consisting of Guy-Manuel de Homem-Christo and Thomas Bangalter have retreated behind the haven of their trademark helmets that assisted in characterizing their innovative and futuristic sound. That is, until now…
Sculptor Xavier Vielhan has achieved what many have failed to do, unmask the ever enigmatic Daft Punk. Vielhan's new exhibit titled Music will showcase the frenchmen in their more 'human' or realistic anatomy. Vielhan used birch plywood and 3D image scanning in order to produce the statues. The exhibit which is on display at Galerie Perrotin in New York, accommodates statues of Radiohead's Nigel Godrich, Giorgio Moroder, and Pharrell Williams in addition to Daft Punk.
In a recent interview, Vielhan discusses his artwork and explains that it was rather easy to coax Thomas and Guy-Man out of their guises, seeing as it was their idea,
"The funny thing is I didn't even ask them…It was a very logical response to my proposal: I proposed to introduce them as producers, not as musicians, and so after talking to them, we decided that they should appear with their civilian names… They proposed to me: 'Okay, we should make the sculpture the non-existing image of us. So if somebody wants to see how we are like in real [life] they'll have to look at the sculpture."
Who knew Daft Punk were such savvy businessmen too. A great marketing scheme, am I right?

The exhibit which is on display as of today, will be presented at Galerie Perrotin until April 11, 2015. To check out more images of Daft Punk's unmasked sculptures and Xavier Vielhan's exhibit Music, see here.