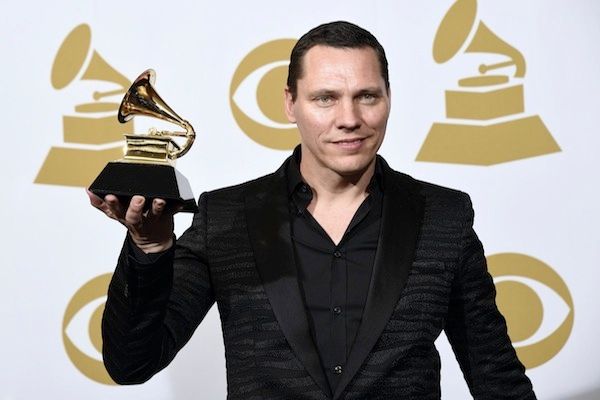 It seems like the Godfather of dance music has accomplished everything. Tiesto has been ranked #1 on DJ Magazine's Top 100 DJ's poll, winning in three consecutive years from 2002 to 2004. He was the first DJ to perform live at the Olympics, playing the opening ceremony in Athens in 2004. He started his own Club Life radio, and has since expanded and globalized the Club Life brand. His albums have experienced tremendous commercial success, with Elements of Life charting as the number one electronic album in the United States and Netherlands. After last night, Tiesto can cross one more thing off the list. He won his first GRAMMY Award last night in the Best Remixed Recording, Non-Classical category.
Tiesto went up against stiff competition on Sunday, squaring up against some industry heavyweights. Kaskade was one favorite to win for his melodic edit of Galantis' "Smile." Robin Schulz was another popular prediction, as his remix of Mr. Probz's "Waves" charted as the number one track in 6 countries. Audien's remake of Bastille's "Pompeii" was another fan favorite, as his high energy remix was heard at festivals throughout the summer. The other nominations were Eddie Amador's remix of Five Knives' "The Rising," and Ming's remix of Crossfingers' "Falling Out."

Despite the worthiness of his competitors, Tiesto emerged victorious on Sunday. His remix of John Legend's "All Of Me" was originally released as a free track to celebrate his birthday. It was one of many remixes of the hit track, with other notable remixes from Dash Berlin, Kasum and Steve James. John Legend tweeted his congratulations to Tiesto after his victory, with Tiesto tweeting his thankfulness to everyone for their support. Mat Zo also got in on the action, although his tweet was slightly more cynical about Tiesto's accomplishment.
The other big winners in dance music last night were Aphex Twin and Clean Bandit. Clean Bandit won Best Dance Recording for their hit track, "Rather Be," while Aphex Twin won Best Dance/Electronic Album for Syro. The full list of Grammy winners can be found here on their website. If you haven't heard Tiesto's "All Of Me" remix yet, you can check it out below.