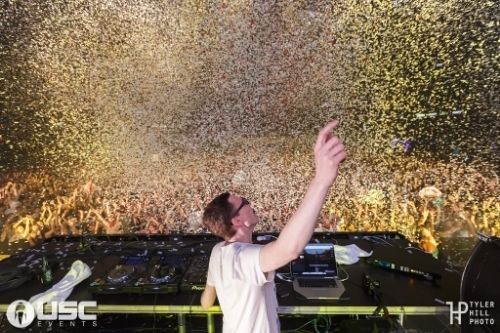 Piggybacking their groundbreaking album release, Above & Beyond's 'We Are All We Need' tour landed them well over twenty stops in North America alone. EDMTunes had a chance to catch the Anjuna bosses as they made their final stop of the tour in Tacoma, Washington on the 21st of March. Courtesy of USC Events, the same company behind the Northwest's leading festivals like FreakNight and Paradiso, thousands got to experience the heart warming sets of 16 Bit Lolitas, Myon & Shane 54, Mat Zo, and Above & Beyond.
Held at the Tacoma Dome in the heart of its city, the retired basketball stadium played the perfect venue for well over five thousand ravers. The doors opened promptly at 7:00 PM, with 16 Bit Lolitas kicking off the night at 7:30. USC Events have received flack from their previous events for their door security which cause long lines and anxious ravers missing parts of their favorite sets. But you wouldn't have guessed it at this event, as their streamlined security measures went down without a hitch, ensuring everyone's safety without bogging down the party.
Once inside, the floor opened up and people were getting down. Massive stadium seating provided a more laid back avenue from which to view the stage, or to take a breath. Getting down with everyone in the pit, and then taking a breather in the seating area and watching three starry-eyed fans push the button was an experience like none other.

The night closed out shortly after 1:00 AM, when Above & Beyond did a short and sweet encore set consisting of a few unexpected tunes. All in all it was a night filled with friends and feels that nobody except the kings could deliver. Thank you Paavo and Tony, and thank you USC Events for a fantastic night.