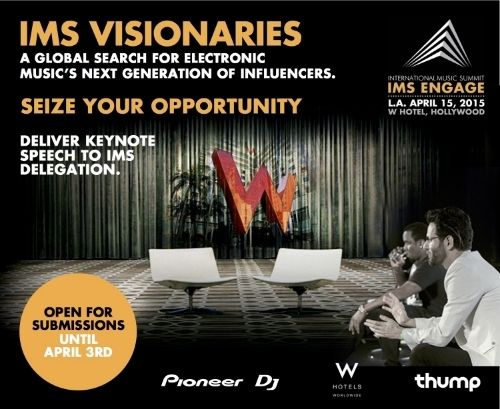 International Music Summit, or IMS, is a groundbreaking platform when it comes to leadership and innovation in the dance music industry. With a number of different events across the world, in LA and Ibiza and Singapore, IMS hosts countless industry leaders as they speak and discuss revolutionary ideas regarding the future of dance music.
With the 2015 rounds of events just around the corner, IMS has partnered with VICE's THUMP to let the new faces of the industry's future take the stage. By hosting a first-of-its-kind contest, IMS is allowing anyone under the age of 25 to submit a 5-10 minute long video essay where entrants will seek to answer the question: 'How to continue to grow and innovate the electronic music industry?" The winner of the contest is then privy to a 1-on-1 Q&A with David Grutman (Who is the main man some of the biggest clubs in the United States, including LIV and Story in Miami).
Pete Tong is one of IMS' co-founders, and strongly believes in the future IMS holds for the ever-growing dance music industry:
"IMS Visionaries gives the next generation a chance to directly present their views to the most influential people in electronic music. . .It's IMS' goal to find the young who dare to challenge current standards with innovative ideas that will take the industry to the next level. These individuals will influence our industry in years to come and we aim to give them a platform to lead."
This opportunity to pick the brain and gain valuable industry advice also comes with the chance to attend IMS as a delegate, as well as to deliver a keynote speech to the summit delegation. A roundtrip ticket to Los Angeles from any North American city is included, as well as a one night stay at the W Hotel Hollywood, access to all official parties, and even a chance to interview for one of three potential industry internships.
IMS Engage will be taking place on the 15th of April at the W Hollywood Hotel in Los Angeles. Having already announced the first group of pairings for the open discussion (International DJ Seth Troxler, who will be sitting down with the rising star of artist management, Jake Udell), the next round of pairings was also recently announced. Jason Strauss, who is a parter at TAO Group who own Tao and Marquee, and LAVO, will be sitting down to chat with David Grutman (mentioned above).
To enter the contest, follow the link here so you can learn more about IMS engage as well as how to start creating your 5-10 minute long video essay. Good luck!