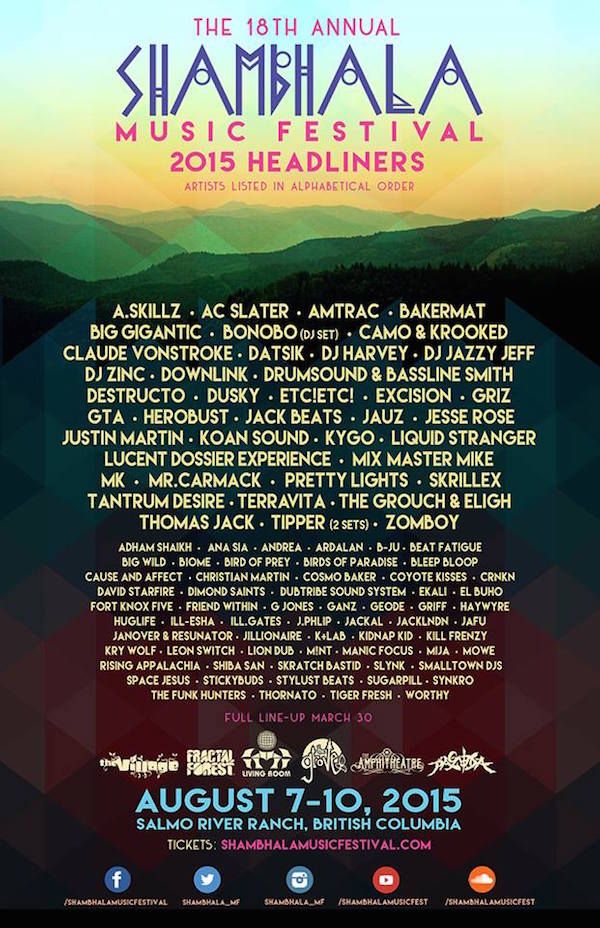 As one of Canada's largest electronic music events, Shambhala continues to be revered by bass music lovers for its heavier take on the summer festival experience, as its heavy roots help inspire each year's lineup. This year comes as no exception, as the festival's 2015 headliners include the usual cast of heavy characters: Excision, Datsik, Liquid Stranger and Downlink as well as acts like Camo & Krooked and Zomboy. Other noteworthy headlining acts for this year include Pretty Lights, Bonobo (DJ set), AC Slater, Skrillex, GRiZ, bass music pioneer Dusky, and 2 sets from world renown brain music trailblazer and turntablist, Tipper.
While Shambhala's official list of 2015 headliners is nothing to be upset about, Bass Heads are left scratching their heads wondering why Bassnectar is nowhere to be found on this year's lineup, seeing as he's been a Sham veteran since the early 2000s. The poster does state that the full lineup will be released on March 30th, so there is a chance of him being a late edition. Bassnectar or not, the show must go on and this year's is bound to be yet another epic weekend of North of the border bass.
Grab tickets for this year's Shambhala Festival, happening August 7 – 10 in Salmo, British Columbia, Canada here!