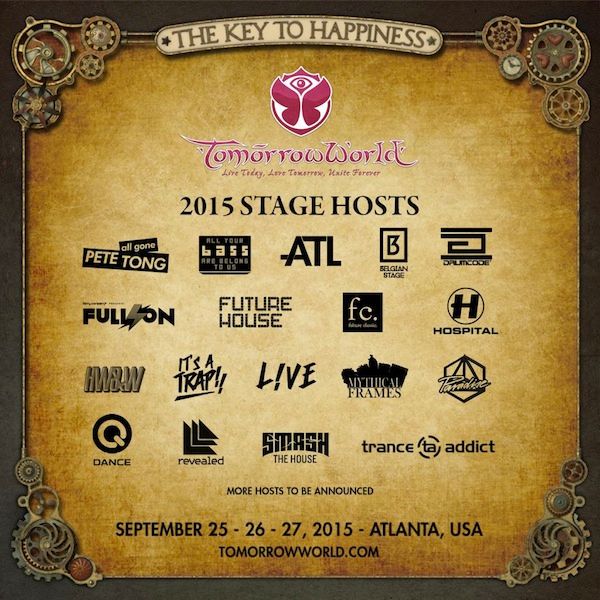 In its second year of existence, TomorrowWorld opened its doors to over 160,000 visitors from over 75 countries over the course of the three days, cementing its status as one of North America's premier electronic music festivals. With 7 stages and over 100 performers slated to play throughout the course of the festival, a big reason why TomorrowWorld is such an enticing destination is the elite talent they book year in and year out. This year's rendition of the festival welcomes back a number of stage curators from previous years, in addition to a slew of brand new ones.
2015's roster of curators include Revealed Recordings, All Gone Pete Tong, Smash the House, Full On, Paradise, Q-Dance, Drumcode Records, Trance Addict, Future Classic, Huh What Where and Hospital Records. This esteemed group of curators will be taking over 7 themed stages, with both returning themes like It's A Trap!, Mythical Frames, All Your Bass Are Belong To Us and the Belgian stage as well as new themes like the L!VE stage, which looks beyond dance music to welcome a live component to TomorrowWorld, an ATL stage, which will highlight local Georgia talent, and a Future House stage.

With brand new additions to the festival like new stage curators and the Breakfast Beats event in DreamVille, TomorrowWorld 2015 is clearly looking to expand the possibilities of the festival experience. In recent news, the future of TomorrowWorld was announced yesterday when Chattahoochee City Council unanimously approved of the festival's land use permit to last until 2025. This is a major step towards TomorrowWorld's evolution and fans are going to want to buy their tickets now to be a part of the history that will be occurring in the Georgian Hills.
Tier 1 tickets to DreamVille are already sold out, but Tier 2 and GA tickets are back on sale now, so make sure to grab yours here! Until then, watch Dim Mak bring the madness to their personally curated Mythical Frames stage below!
H/T:
Georgia Unfiltered