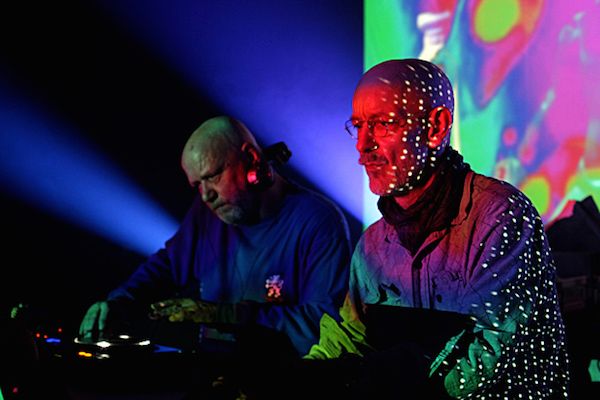 Alex Paterson and Thomas Fehlmann, who make up the two headed monster of ambient-house duo, The Orb, have returned and are set to release a new album titled, Moonbuilding 2703 AD . It is set out to be released on June 22nd (except in the US where we will sadly have to wait one additional day) on Kompakt. Their return to Kompakt would be their first release with the Cologne-based ambient label since their release of Okie Dokie It's The Orb On Kompakt in 2005.
The LP will contain four extended beautiful ambient filled tracks on the standard LP but if you feel like your ears have more room for some more soothing sounds, then grab the deluxe vinyl edition as there will be three more tracks that includes a tribute to late rapper/producer J Dilla. To get a little feel of what to expect on the new LP, they released a press release that states it is "another major slice of psychedelic synth bliss, obscure loops and deep ambient textures tossed in swinging breakbeats and powerful basslines."
This will be the first piece of work the duo has created since More Tales From The Orbservatory, which was released in the summer of 2013. So it has been two years since The Orb blessed us with their ambient seductive house, and the time is almost here to listen to it first hand. June 23rd can not come any sooner!
Here is the tracklist for Moonbuilding 2703 AD below as well as some upcoming tour dates in the US, Europe & Japan.
TRACKLIST
1) God's Mirrorball
2) Moonscapes 2703 BC
3) Lunar Caves
4) Moonbuilding 2703 AD

On Deluxe Version Only:
5) Dilla's Moon Quake (Their Tribute to J Dilla)
6) Moon Quake (Slice of Silver)
7) Moon Quake 6

UPCOMING TOUR DATES
04-29 Los Angeles, CA – El Rey Theatre
04-30 San Francisco, CA – Regency Ballroom
05-02 Las Vegas, NV – Further Future Festival
05-03 Tucson, AZ – Rialto Theatre
05-05 Durango, CO – Animas City Theatre
05-07 Aspen, CO – Belly Up Aspen
05-08 Englewood, CO Gothic Theatre
05-09 Boulder, CO – etown
05-15 Neerpelt, Belgium – Eurorock
05-16 Lyon, France – Nuits Sonores