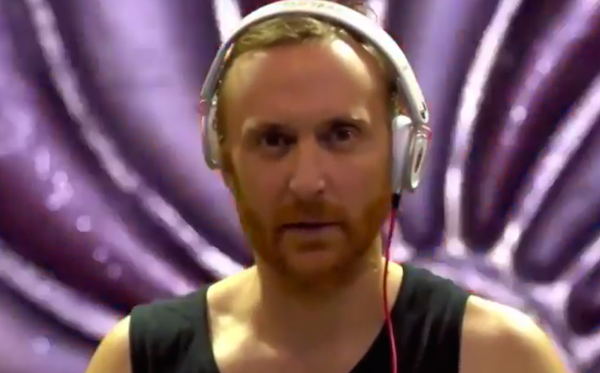 David Guetta is certainly no stranger to controversy. While some might think it merely comes with the territory of being a former #1 DJ on DJ Mag, Guetta's public embarrassments seem to transcend this explanation. Guetta has been consistently accused of fake DJing, like when he was exposed for playing with the volume turned off at Tomorrowland in 2012. A year later, Disclosure took shots at him saying, "I would also like to point out that people like David Guetta etc. who have also been accused of pretending to mix, actually try and cover it up." Guetta has received similar treatment all over the internet from satire sites such as wunderground.com, who Guetta sent a cease and desist letter to after an article was published titled, "David Guetta Left Red Faced Following Pre-Recorded Set Gaffe."
This time, Guetta has brought the criticism on himself based on his own admissions. In an interview with Beatport, Guetta discussed what it was like to play Coachella this year.
"Something crazy happened to me on the [first weekend]. I'm using Rekordbox and Pioneer to play, and before I saved my playlist to my SD card, my computer crashed. So I just had to put all my music in a random order on USB sticks at the last minute, doing it really old school, scrolling to look for the records I wanted to play next."
His difficulties persisted, as the surprise appearance of The Black Eyed Peas gave him further complications.
"When Fergie decided to come last minute, it was like, OK, but I don't have 'I Gotta Feeling,' because I don't play it any more. I called my stage manager to go download 'I Gotta Feeling' on iTunes so I could play it. It was just completely crazy, but I loved it. And actually the set went amazing, and in a way the stress adds to the adrenaline."
Critics have jumped on Guetta, questioning how stressful it could possibly be to download a song on iTunes. Additionally, calling DJing without a set playlist "old school" is dismissive of incredible modern DJs such as A-Trak and DJ Craze. Regardless, if recent history is any indication, the public outcry will be too short lived to have any impact on Guetta's popularity.
If this article has soured you on Guetta's DJing abilities, here is a video of him at Tomorrowland in 2014 to restore your faith in the Frenchman.