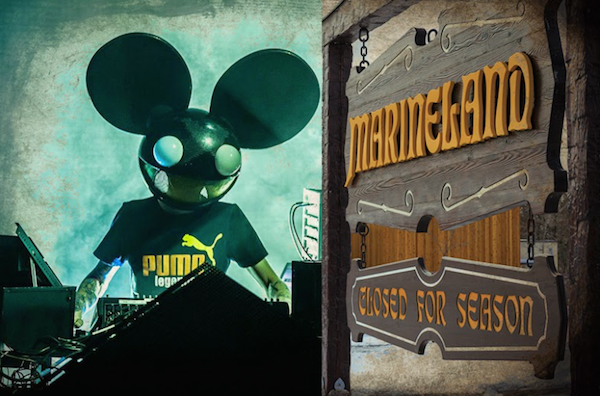 We have all heard the tale of David and Goliath, but have you heard the fable of a mau5 saving the whales?
Ontario amusement park Marineland, which is home to various species of wildlife, has faced a lot of controversy over the last few years and in turn, has received a lot of negative attention. After the release of Manny Oteyza's 2013 documentary Blackfish, the inadequate and inhumane treatment of orcas (or killer whales) in captivity was brought forward. Since the release of Blackfish, venues like SeaWorld and Marineland have seen an exponential decrease in attendance and stocks based on the insufficient living conditions of their orcas.
A new legislation was put into action last week that made it illegal to breed and acquire orcas in Ontario, Canada. The new statute is a part of a large development that is working to ensure humane living conditions for the remaining orcas in captivity. Since 2014, deadmau5 has actively showed his disapproval for Marineland, which is located in his hometown of Niagara Falls. Zimmerman, who is not adverse to quarrels, has disclosed his resentment with an open letter entitled "Deer Marineland", which unveiled his objective to potentially buy out the park as a result of his desire to close it due to the inhumane treatment of animals in captivity. mau5land anyone?

The proscription on breeding and imprisonment in Ontario commenced last week. Queen's Park media has declared that an alleged $60, 000 fine will be the first certitude for Marineland. Though deadmau5′ support was noted, a 125-page research archive was the deciding factor that set the ban in motion. Community Safety Minister Yasir Naqvi stated, "Today's announcement is about ensuring that Ontario has the best standards of care possible for marine mammals. That is what Ontarians expect and these animals deserve." The ban and fine could result in Marineland finally closing its doors for good.
Zimmerman is one of the many celebrities who has opposed orcas in captivity and while he may be a troll, deadmau5 is definitely one of the good guys.
Source: EDMSauce