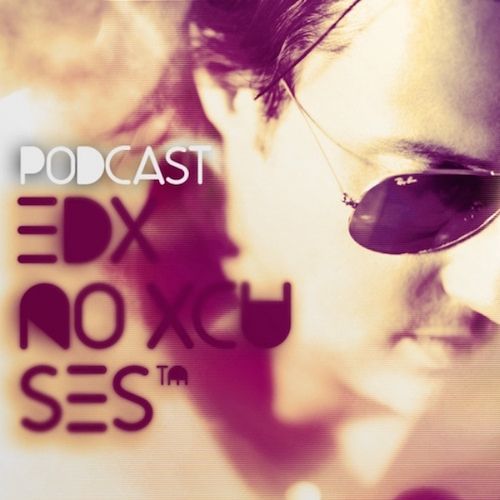 Coming off one of the most epic Miami Music Weeks ever and preparing to embark on another international batch of dates, EDX has no intention of wasting a single second of 2015 to make sure he is at the top of the EDM pyramid. Amongst all of his other antics, the Swiss house maestro has continued his acclaimed 'No Xcuses' podcast up through its 200th episode and beyond. Today, he returns to EDMTunes for episode 215 that may be one of his best podcasts to date.
EDX's long career as a tastemaker has lead him to showcase the scene's hottest tracks and help make the hits today as big as they are. For 'No Xcuses' 215, fans can listen to an eclectic mix of house tracks from East & Young, Androm, Mr. Belt & Wezol, and even an unidentified track called "Mr. Toot" that incorporates a tango flute into its rhythmic percussion line. Overall, EDX provides another flavorful installment of one of house music's most premier radio show.
Stream 'No Xcuses' below along with EDX's new single, "Want You," available now on Beatport.
EDX – No Xcuses 215 | Download
Tracklist:
01. Sub Focus – Turn Back Time (Jolyon Petch Groovefore Remix) [Promo] 02. EDX – Remember House [Enormous Tunes / Sirup] 03. SNBRN Ft. Kaleena Zanders – California (Chris Lake & Matroda Remix) [Rising] 04. Galantis – Runaway U & I (East & Young Remix) [Big Beat] 05. Nick Corline House Work – Re-Intro (Corline N Manuel G Remix) [BFoolish] 06. Androma – Kaya [Armada Deep] 07. Simioli & Provenzano Ft. Scarlet – Ain't No Sunshine (Extended Mix)
08. Yellow Claw – Till It Hurts ft. Ayden (Mr. Belt & Wezol Remix) [Spinnin] 09. Chunks & I.N.H – Fly With You [PROMO] 10. ID – Mr. Toot (Original Mix) [PROMO] 11. Tom Staar & Still Young vs Chris Lake – Wide Awake Changes (I Am Sam Mashup) [PROMO] 12. Sultan + Shepard – Let Me Down (Hook n Sling Remix) [DOORN / SPINNIN] 13. Robin Schulz feat. Ilsey – Headlights (Dub Mix) [Warner] 14. Colleen D'Agostino featuring. deadmau5 – Stay (Drop The Poptart Edit) [Mau5trap]