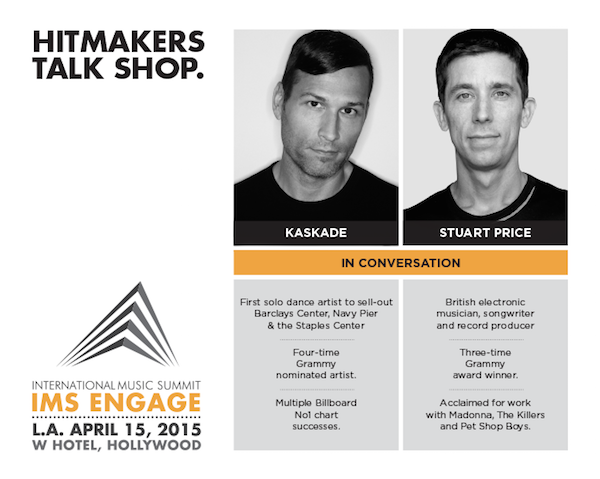 The International Music Summit, over its illustrious seven year history, has put together some of the brightest individuals in dance music within the same room. With such talent all having free reign conversations for several days, this incredible event has earned a reputation for being "the TED of music conferences".
With such high praises bestowed upon this global conference, this years lineup is shaping up to be the best yet. It was announced today that the fifth pairing  of conversations set to take place will be between three-time grammy award winner, Stuart Price, and dance music's most beloved performer, Kaskade.
Along side conversations with Sebastian Ingrosso and Quincy Jones, the entire lineup (which can be found below) is sure to be the talk of the music world for weeks to come. For last minute tickets check out the link below, and if you are in LA this upcoming Wednesday, 4/15, you definitely want to check this out!
IMS Full Schedule

11:00am-11:05am: Introduction from the IMS Partners

11:05am-11:20am: Business Report – North America

11:20am – 12:20pm: Jake Udell in conversation with Lyor Cohen

12:20pm-1:15pm: David Grutman in conversation with Jason Strauss

1:15pm-2:30pm: Networking Lunch at W Hotel

IMS ENGAGE AFTERNOON SESSION:

2:30pm – 3:30pm: Kaskade in conversation with Stuart Price

3:30pm – 4:30pm: Seth Troxler in conversation with Chuck D

4:30pm – 6:00pm: Sebastian Ingrosso in conversation with Quincy Jones

6:00pm – 9:00pm: After party at W Hotel Wet Deck (next to the conference room)