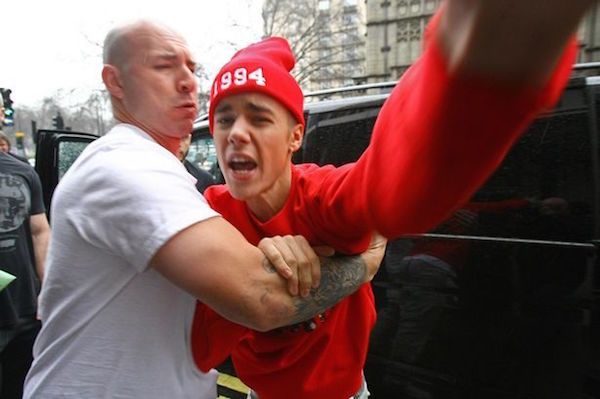 Apparently it isn't a 2015 music festival until Justin Bieber does something to get himself on the news. First there was his
extremely odd dance
 while performing with Jack Ü at Ultra, and now…this. TMZ has obtained video of his forced exit from Coachella this weekend.
Witnesses on the scene say that Bieber was simply trying to enter through the artist exit during fellow Canadian Drake's headline performance, but was denied entry by security claiming it was "over capacity," despite displaying all the proper wristbands and being personally invited by Drizzy himself. Bieber told the guards he would be trampled by fans if he stood in the general admission area, a statement that nobody can argue with, but apparently the guards were not having it with Bieber. Stories say that a Coachella staffer eventually agreed to let Bieber in, overriding security, but when one of the guards saw this happening, he took action, putting Bieber in a chokehold and pulling him away from the entrance. This is not the first time the Biebs has gotten into an avoidable altercation. He once tried to get out of his car to fight paparazzi, and also the time he was punched in the face by Orlando Bloom.
The video below shows Bieber being walked out with two people holding him on either side, but people close to the pop star say that he left the festival willingly and is considering legal action. Stay tuned for further information on this bizarre story.