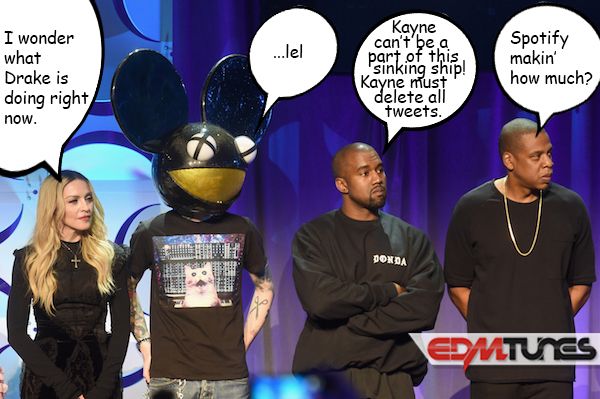 Jay-Z's streaming service, touting high quality & artist exclusives, isn't exactly succeeding on the app markets. In the 14 days since the app managed to peak in the Top 20 U.S. iPhone chart, the app has sunk to the point where it's not even in the top 750 on iPhone & top 1,250 on iPad. This kind of drop off isn't just embarrassing, it's potentially lethal. The combination of the higher than usual subscription fee, gawdy rollout by deeply pocketed supporters, and exclusive content quickly being ripped to YouTube, has become a perfect storm, ravaging the company. Not only has the CEO been replaced, but the negative press has been deafening. It's gotten so bad that Kanye West has deleted all of his tweets associated with it (though he later realized people would notice, and threw this back up to cover himself).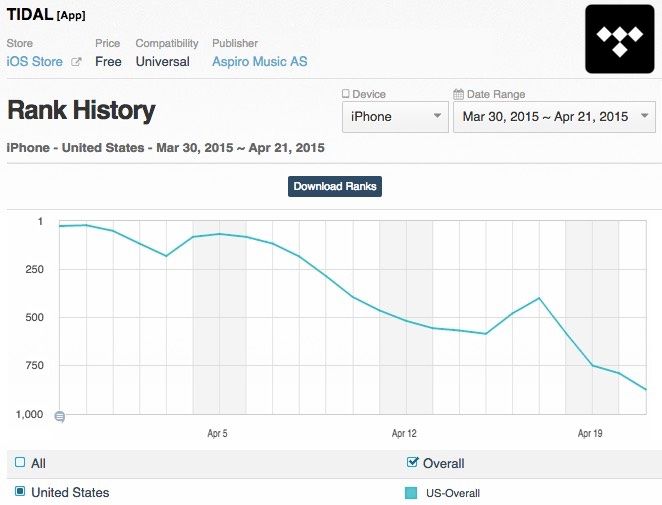 This is all coming at a time when Spotify & Pandora are doing better than ever. How much better? They dislodged Candy Crush from the Top 4 App download chart, which was thought to be impossible. Additionally, Beats Music, the service sold to Apple by Dr. Dre, has cracked the Top 20, obviously stoking some East & West Coast rivalries. BGR theorizes that the anti-Spotify campaign that Tidal used seemed to have the opposite effect. Because Tidal never proved that they were actually going to pay artists any better than Spotify or Pandora, no one cared when a pile of millionaire artists complained that they were being shortchanged. While lots of people wish artists were paid more, no one is really that concerned that Beyoncé, Madonna & Kanye are "hurting." This isn't just idle speculation, Mumford & Sons Frontman Marcus said as much in an interview with The Daily Beast, as did Death Cab for Cutie Frontman, Ben Gibbard. And it's a sentiment shared by many in the industry. Industry commentator & critic Bob Lefsetz, in his Lefsetz Letter said:
"Today opinions don't matter, facts do. And the fact is the public is not embracing Tidal. Jay Z's army is composed of those on stage with him, there are limits to his power, despite a fawning press eating up all his prognostications."
This is of course, essentially undeniable. The industry, especially at the top, can create a bubble where people think their ideas are better than they actually are, with no one to tell them otherwise. When masses getting smacked around for $100-200 a day for festival tickets, $30-50 for club entry & anywhere between five and twenty bucks for a drink, the idea that we'd need to pay even more for a subscription service seems to be leaving a very bad taste in the mouth of fans. Which is why we have this jaw-dropping chart from Digital Music News: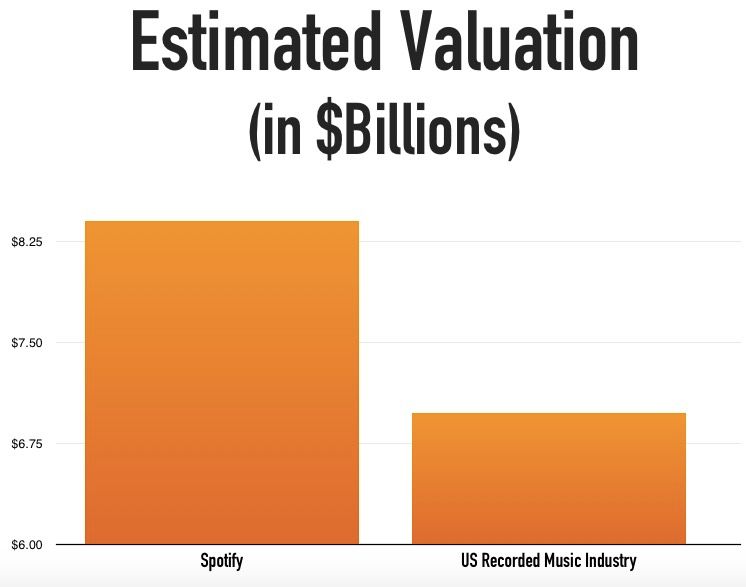 That's right, Spotify has recently been valued such that the company is worth more than the entire US Recording industry, combined. Every label, every artist, every track & every company that makes it happen, is now seen as having less worth in the eyes of the market than a small-ish tech company out of Stockholm. At this point, all eyes are on Jay-Z and his new CEO. If they pull it off, it'll be an astonishing come from behind victory. But at this point, it's not looking good. What do you think? Do you use Tidal? Do you hate it? Let us know in the comments!