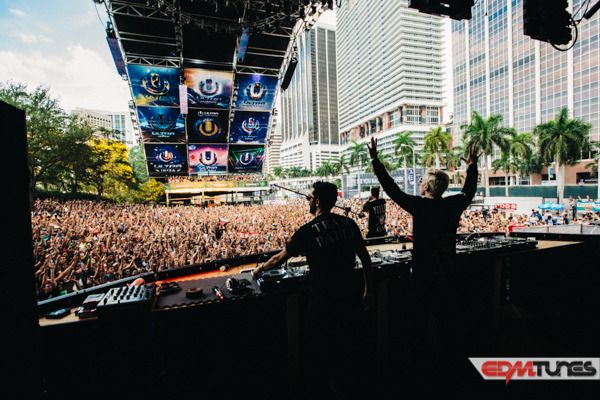 Miami Music Week and Ultra have come to a close unfortunately. What is fortunate though is that they both set the tone for the sounds we will be hearing over the next 12 months. Tracks that you think will blow up might not, and tracks you've never heard before will become stuck in your head forever. We have compiled some of those stand out tracks for you (in no particular order).
1. Valentino Khan – Deep Down Low
It's safe to say that you went into Ultra having never heard this track before, and by the time you left you could tell it was about to be dropped before it even happened. This one was literally everywhere, and probably wins for most played over the weekend. "Girl drop that ass…..deep down low…deep"
Notable plays: Axwell Ingrosso, DJ Snake, Jauz, Michael Brun, Dirty South, Zeds Dead, Tchami
2. Jack Ü – Jungle Bae
With the number of high profile Jack Ü tracks all over the place right now, this one comes as a surprise as the breakout hit but you literally couldn't escape this track. Obviously 'Take Ü There' was everywhere too though.
Notable plays: Jack Ü, DJ Snake, Afrojack, Hardwell
3. Wiwek – On Your Mark (and remixes)
This track isn't even remotely new, but it is an absolute DJ weapon. Want to completely change the vibe of your set or just make the crowd go wild? Hit the drop on this track and "on your mark get ready get set…bya!". This wasn't the only Wiwek bomb to be dropped all over Miami either. You would be hard pressed to find a tracklist that doesn't contain something from Wiwek in it.
Notable plays: Jack U, DJ Snake, Alesso
4. Jorn van Deynhoven – Freaks (Festival Mix)
This track has the perfect combination of epic hands in the air build up and pulse pounding energetic drop. While obviously trance isn't going to make its way across all stages, you couldn't miss this one in the ASOT tent.
Notable plays: Armin @ Main Stage, Mark Sixma, Andrew Rayel
5. Jauz – Feel the Volume
For a kid that you probably didn't know existed 6 months ago, he was everywhere in Miami last week. This is one of those tracks that seemingly transcends subgenres and is just plain fun no matter what environment it's played in.
Notable plays: DJ Snake, Knife Party, Jauz, MAKJ, 3LAU
6. Cajmere (& Kryder) – Percolator
Technically this track was around before some of Ultra's attendees were even born. This one originates in 1996 but it's still got the respect of the underground community as well as some more recent names. You were most likely to hear this one under the megastructure or resistance stage, but it wasn't merely contained there. A new unreleased version with some input from groove cartel master Kryder made its way into Laidback Luke's set at the Worldwide stage.
Notable plays: Laidback Luke, Art Department
7. Calvin Harris – Outside (remixes)
We totally called this one last week didn't we? This track's acapella and many remixes were found numerous times at the mainstage and beyond.
Notable plays: Hardwell, Oliver Heldens, 3LAU, MOTi
8. Faithless – Salva Mea (Above & Beyond Remix)
While this unreleased track didn't necessarily dominate all of Miami, it did dominate your time if you're of the Anjuna variety. Of course Above & Beyond played it at their own show at Sauna Mana on Thursday, but so did Andrew Bayer who was Anjunabeats' only representative at Ultra this year. When this track's haunting intro came on the speakers everyone was instantly on their feet.
Notable plays: Above & Beyond, Andrew Bayer
Photo: Brockelbank Photography