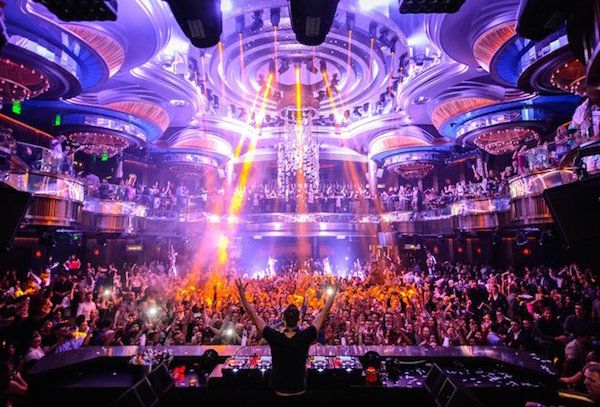 Between crazy cover charges, VIP table reservations, and copious amounts of drink purchases, its undeniable how high the cost of treating yourself to a night out partying can be. After embarking on some statistical research around how much avid goers' wallets have taken a beating last year, the folks at Nightclub.com were able to give us an informed estimate on the total revenue the top ten clubs in the United States earned in 2014. The result? A staggering $550 million in revenue. That's right, America's clubbing world is now said to have an estimated worth of over half a billion dollars—a new high for the industry.
Topping the list are two of the biggest clubs to have ever existed, Las Vegas's XS and Hakkasan, who each passed the $100 million mark in revenue (probably because table reservations can cost up to $10,000 alone at these clubs…yikes). Along with XS and Hakkasan, 5 more of 2014's top 10 earning clubs have a home in Las Vegas, with only 3 clubs hailing from other parts of the country; New York City and Miami Beach.
Based on these numbers rising in tandem with the popularity of electronic dance music, it's easy to credit these history-making statistics to the parallel high demand for the DJ services of cash cow electronic acts, like Las Vegas resident DJs Calvin Harris, Avicii, Hardwell, Kaskade, Skrillex, and Diplo. And it's clear that there are a handful of high rollers that aren't turned off in the slightest by the excessive price tags that come associated with a night on the town. Check out Nightclub.com's list of the U.S.'s top 10 earning clubs below along with their staggering revenue price tag estimates.
1. XS, Las Vegas, $105 million
2. Hakkasan, Las Vegas, $103 million
3. Marquee Nightclub, Las Vegas, $85 million
4. TAO Las Vegas, Las Vegas, $55 million
5. LIV, Miami Beach, $45 million
6. Surrender Nightclub, Las Vegas, $45 million
7. LAVO New York, New York City, $35 million
8. Story, Miami Beach, $30 million
9. Hyde Bellagio, Las Vegas, $30 million
10. LAVO Las Vegas, Las Vegas, $25 million
Source: Forbes