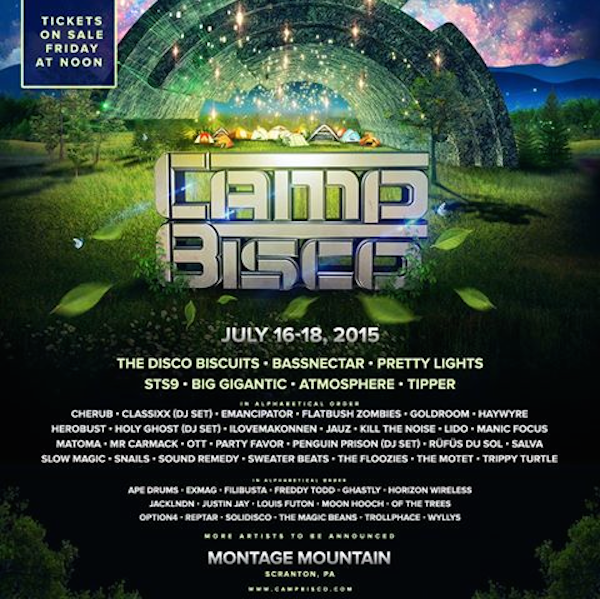 After speculated rumours and a disappointing absence in 2014, the Disco Biscuits have announced the return of their lionized festival, Camp Bisco. The festival, which was previously held at New York's Indian Lookout Country Club, will find themselves settling into a new location closer to home this summer. Philadelphia, Pennsylvania natives the Disco Biscuits, are bringing the highly coveted Camp Bisco closer to home as celebrations will occur at Montage Mountain in Scranton, Pennsylvania July 16th thru 18th.
Yesterday, the Disco Biscuits distributed the lineup for the 2015 return of Camp Bisco. The lineup features a star-studded troupe of heavy-hitting bass acts with headliners such as Bassnectar, Pretty Lights, and Big Gigantic will perform alongside the Disco Biscuits themselves. During the course of the three day festival, Camp Bisco will also host Kill The Noise, Holy Ghost (DJ set), ILoveMakonnen, Jauz, Snails, Louis Fulton, Ape Drums and Option4 in addition to many, many more.  
Camp Bisco has made it's highly anticipated return and the festivals first round of artist announcements surely did not disappoint. Early Bird tickets for the Disco Biscuits, Camp Bisco, were sold out in under 2 minutes however, more tickets are available and may be purchased here. Stay tuned for a second round of artist announcements that is scheduled to be released soon.