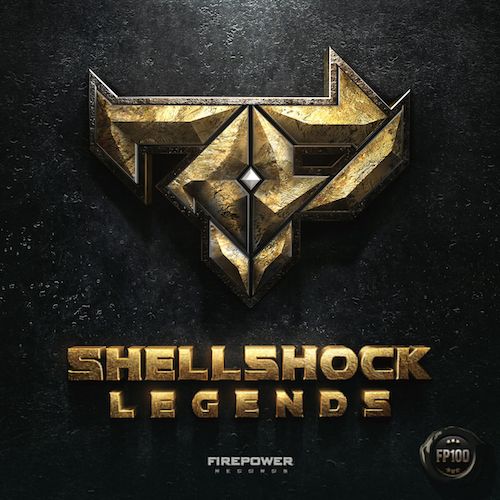 Since its conception in 2012, Datsik's Firepower Records has evolved into one of dubstep's biggest and most credible labels, as it boasts the releases of Datsik's Cold Blooded EP and Let It Burn LP as well as releases from other heavyweight producers like Protohype, Getter, Truth, Bear Grillz, Mayhem, Antiserum, Fox Stevenson and Must Die. Three years since its humble beginnings and the Firepower Family currently claims forty-four artists and is celebrating their 100th release, Shell Shock Legends. This compilation album is comprised of exclusive tracks from some of the label's most prominent and up-and-coming figures and recognizes each artist's role in establishing or evolving the label in some way throughout the years.
One of the highlights of the Shell Shock Legends release is Datsik's nostalgic dance-floor detonator, 'Troynado'. Deriving its name from Datsik's birth name, Troy, 'Troynado' is so aptly named, as it is a direct shot to the heart and soul of Datsik's signature dark and robotic sound. Laced with heavy wubs, U.K. influences and glimmers of his OG sound; like the familiar tones and video game vocal samplings of 'Nuke Em', mechanical attitude of 'Swagga' and 'Scum's swinging drum rhythm, the punk rocker of electronic music really allowed himself to shine through in this release.
From his standard-setting debut album, Vitamin D, to his most recent release celebrating his success as a producer, DJ and dubstep icon, Datsik nailed the synthesis of his old and new sound with 'Troynado'.  By revisiting his old sound with a perspective backed with years of new knowledge, Datsik was able to deliver a perfectly appropriate track for the Shell Shock Legends compilation as well as to celebrate his immense success as a dubstep producer.
Listen to Datsik's 'Troynado' and purchase it for the support, along with the rest of Firepower's Shell Shock Legends compilation album, here!
Shell Shock Legends Tracklist:
1. Datsik, Protohype & Init – "Turf Wars"
2. Antiserum & Tha Trickaz – "Boom"
3. Infuze & Proper Villains – "Galaxia"
4. Datsik – "Troynado"
5. Protohype & PhaseOne – "Recon"
6. Truth – "Break Out" (Feat. Taso)
7. Twine – "Insanity" (Feat. Mayor Apeshit)
8. Datsik & Bear Grillz – "Fuck Off"
9. Getter – "The Heat"
10. Minesweepa – "PaperChase" (Feat. Alexander the Great)
11. Sub Antix – "Mr. Miyagi"
12. Downlink & Terravita – "The OG"
13. Helicopter Showdown & EH!DE – "Balderdash"