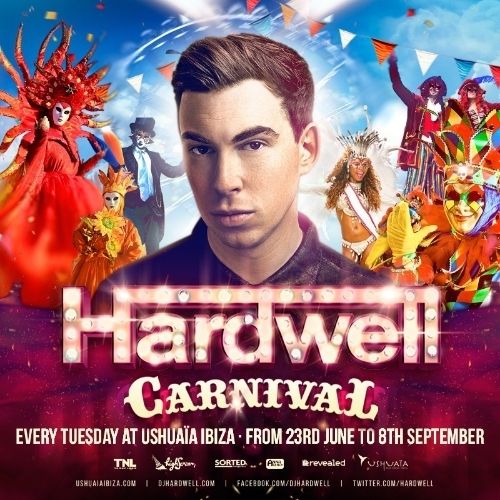 While NBA players strive to make the All-Star game, or NFL players strive to make the Pro Bowl, dance music's elite talent has their own "all-star" roster of sorts – at the Ushuaïa Beach Hotel in Ibiza. Year in and year out, only the best of the best DJs are bestowed the honor of a residency at the premier Ibiza nightclub. In 2013, Ushuaïa was home to talented artists like Axwell and Ingrosso, Loco Dice, Avicii, and David Guetta, and in 2014, Guetta and Avicii were joined by the Dutch titan, Hardwell.
In 2015, the Revealed Recordings head honcho will be making his triumphant return to the white sands of Ibiza for a twelve-week residency. Each year, Hardwell has brought something creative to Ibiza with him, and this year is no different, as he's bringing his newest and most exciting concept to date – Hardwell's Carnival. A collision between music and festivities of dance and culture, Hardwell's Carnival will feature a lineup with fast-rising stars, alongside A-list heavyweights. The musical talent will be the focus of the twelve-weeks of madness, but like any good carnival, you can expect to see stilt walkers, masquerades, and carnage creators adding their own unique flair.
With a new single featuring Jason Derulo titled "Follow Me" on the way, the future is bright for Hardwell. You can get tickets and find more information for Hardwell's show at Ushuaïa here.