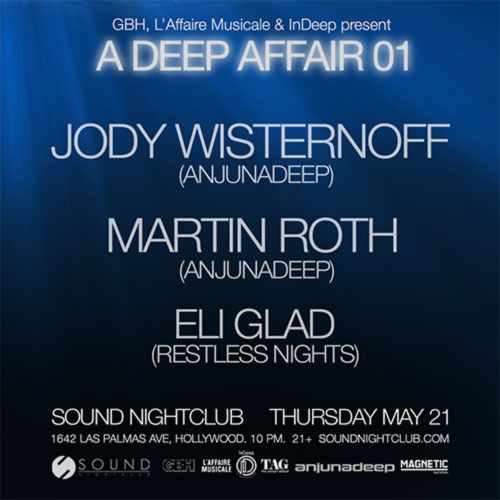 The blogosphere, always quick to pick up and milk something until its no longer interesting, has been all out repping L.A's show scene for the past few month, but for good reason. The city is the epicenter of new talent in dance music these days, undoubtedly. However, even with all of the new talent popping up, taking up turf all over town, there's still time for the veterans and main players to make their claim. In steps house veterans Jody Wisternoff and Martin Roth. The Anjunadeep stalwarts will take to the decks on May 21 at Los Angeles' Sound nightclub for what should be one of the more memorable parties of the week, even in a town always anxious for new talent. The show is being produced by one of L.A's up and coming promoter companies, InDeep and L'Affaire Musicale.
Indeed, Jody Wisternoff is a legend in dance music. His partnership with Nick Warren as Way Out West helped pave the way for progressive house as we know it today. His solo career and A&R prowess has helped shape Anjunadeep, along with its brightest stars, Lane 8 and Lancelot. Label mate Martin Roth is held in similar regard – the Ministry of Sound resident DJ owns the 4th best selling progressive house track of all time on Beatport – a remix of Minx X's 'Sensation Sneakers'.
Tickets for the show can be purchased here.