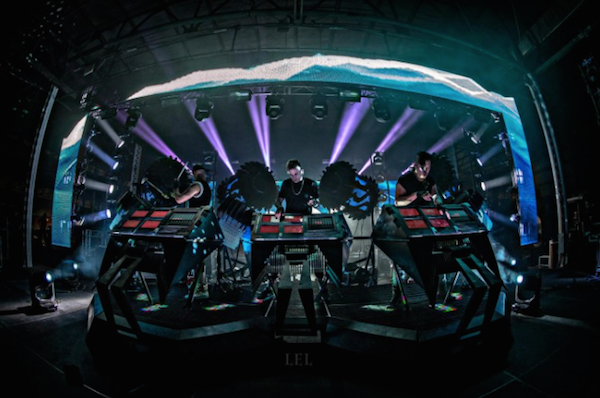 Nearly ten years ago, The Glitch Mob first assembled within the thriving Los Angeles bass-impelled 'beat' scene. Over the course of virtually a decade, The Glitch Mob has actively pushed the envelope both in the musical composition of their tracks, but also the visual and artistic components that accompany their live performances. In 2014, The Glitch Mob familiarized audiences with a contemporary musical element in which they referenced, 'The Blade'.
'The Blade' was constructed by a team of movie set engineers, and it is a custom-made set piece that encompasses lighting details and instruments. The Glitch Mob worked to incorporate their entire discography into 'The Blade', going through the tedious process of reengineering their previously released music in order to tailor it to work alongside the visual element. The Glitch Mob have explained that, "[The Blade] really represents who we are and what we're trying to say, and it's just a functional thing that lets us play our music the way we want to play our music". 'The Blade' is an electronic component that allows for Ooah, Boreta and edIT to truly unify with the apparatus.
Below you may find the mini-documentary that explains in detail the creative composition of 'The Blade'. Encompassed into the documentary is an insiders look at the 'The Blade' in addition to exclusive interviews. Dates for The Glitch Mob's summer tour are available here.