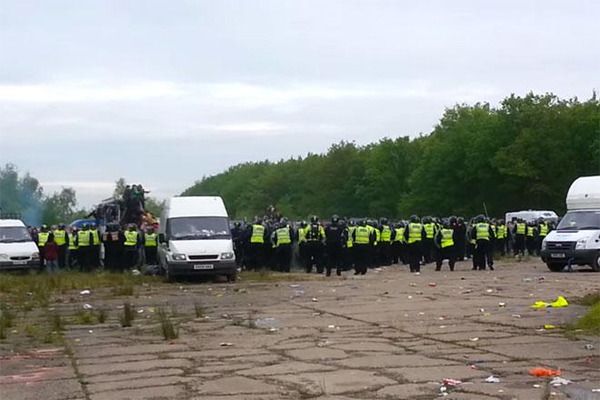 A thousand party-goers gathered in Lincolnshire to attend UKTEK, a free Bank Holiday rave in Twyford Woods. The event ended abruptly as riot police swarmed the festival grounds. During the raid, 21 police officers were injured, and 43 attendees were arrested; reportedly, more than 200 became belligerent towards authorities. Deputy Chief Constable Heather Roach released the following statement:
"Illegal parties sometimes known as raves are just that, illegal. One of the core responsibilities and aims of the police is to make sure that people are safe. Gatherings such as this are not safe. There are no safety assessments or plans. Equipment to tackle fires or medical emergencies are generally non-existent. Crowd control measures such as barriers to prevent people being crushed or suffocated are not present and access to the sites for the emergency services such as the Ambulance Service or the Fire and Rescue Service are inadequate."
Video footage, posted on YouTube, shows the police arriving at the event site after receiving noise complaints. There is also video of a police van being ambushed in the dark. This is the third time in the last 8 years that UKTEK has been shut down by authorities. To see all the video recorded of the police invasion at UKTEK please click the "Read More" link below.
Source:
Mixmag