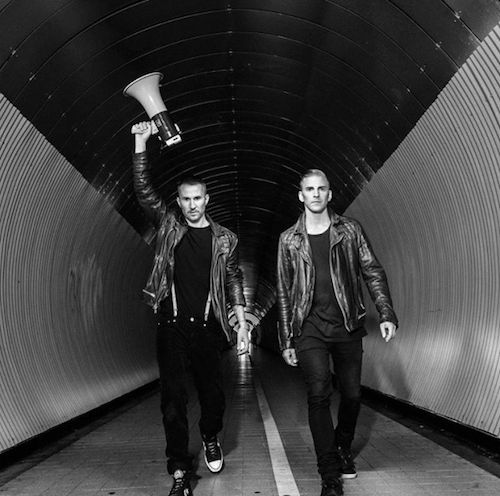 One of 2015's hottest rising stars has to be Galantis, composed of Christian Karlsson of Miike Snow and Linus Eklow aka Style of Eye. In anticipation of their debut album, Pharmacy, dropping next week Swedish duo decided to take part in a Reddit AMA. From their inspirations to the story behind their name, here are the things we learned.
1. Their favorite Galantis tracks at the moment are 'Peanut Butter Jelly' and 'You'.
2. Miike Snow is not dead.
"Miike Snow has a new record coming out – so no, not dead"
3. Their cover art is as important as the music.
"We work together with a visual artist based out of the UK, Mat Maitland, our visual content is as important as our music!"
4. The story behind the Seafox:
"Our music was the inspiration for the seafox… we made it together with our favorite graphic artist Mat Maitland"
5. Their favorite remix of Runaway?
Dillon Francis.
6. They have collaborations on the way.
7. Their greatest musical inspiration?
"Prince."
8. Where the name Galantis came from:
"We actually have no idea… it was given to us"
9. They explained how 'Peanut Butter Jelly' was conceived.
"Parts of the lyric we had in our head for years… just couldn't figure out how to put it into a song. And when we did, it was only vocals and guitar. Now that didn't sound that great so we started to look for a sample and Bettye Swann was the answer and the last piece of the puzzle."
10. They love bass-heavier music.
"WE LOVE BASS – more bass coming"
11. Concerning the use of vocals and vocoders in their music:
"We use our voices a lot as well as others who come through our studio. We love our vocals, we spend so much time crafting, tweaking, and treating them"
12. Their favorite performances?
"There have been a few. Coachella, Ultra and HARD Day of the Dead were all amazing"
13. One of their greatest sources of inspiration?
"Stockholm Archipelago."
14. Favorite live experience?
"We loved hearing 'Smile' sung back at us at Coachella (our first show). We also always like seeing that the love for seafox is real"
15. What music theyre currently listening to often? Bettye Swann & Jamie XX
16. Inspiration behind the new album?
"Pharmacy was the best self-medication we could find"
17. Favorite songs:
Christian – Fools Gold – Stone Roses

Linus – Purple Rain – Prince
18. You will be able to get a Galantis leather jacket of your very own.
"We're doing a special line of merch for the jackets you guys want so badly! Will hopefully be on our merch store mid-summer, early fall"