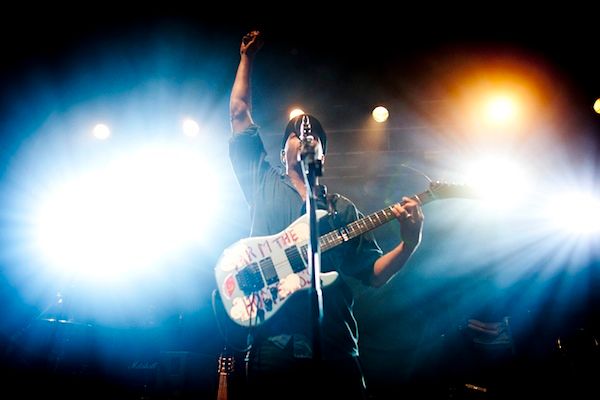 Back in March, Bassnectar teased fans with some huge news, via his Twitter, that confirmed a musical fusion of epic proportions: a new collaboration featuring Rage Against the Machine's legendary guitarist, Tom Morello. Fast forward a few months later, and Bassnectar has some more exciting news to reveal regarding the rock legend's new musical endeavors. It turns out that Morello isn't only dipping his rock and roll pen into Bassnectar's electronic ink, but the guitar legend is poised to release an entire electronic music project featuring a slew of electronic's most notable heavy hitters, like Skrillex and Knife Party.
Bassnectar divulged some details about the yet-unnamed electronic project to Rolling Stone: "[Morello]'s working on this really cool project where he's working with multiple electronic music producers to create electronic songs that he can recreate live on this super, perverted, unexplainable, bastardized guitar mutant instrument thing."

The Bass Head has nothing but praise to sing regarding Morello's open-mindedness, musical prowess, and immanent competence in the ways of today's current music, which is extremely refreshing, due to the fact that Morello's outlook on the new genre is extremely progressive and open in comparison to some of his rock peers.
In regards to what music lovers can expect from his contribution to Morello's new electronic project, Bassnectar revealed, "I proposed to him that we basically pretend that we are a band and that we write a song together."
He told Morello, "I want to make a Rage Against the Machine song if that's cool, and I don't want someone to hear it and think, 'Oh, it's a DJ remix of Rage Against the Machine.' I just want it to sound like some fucking funnel into a hurricane, and we have it, that's the cool news. We have this fucking killer song."
Only time will reveal just how epic this brand new fusion project will be, but considering the magnitude of musical talent involved coming from both genres, it's bound to be something spectacular; and rock and electronic fans alike will continue to buzz in anticipation in the meantime.
Source: Rolling Stone