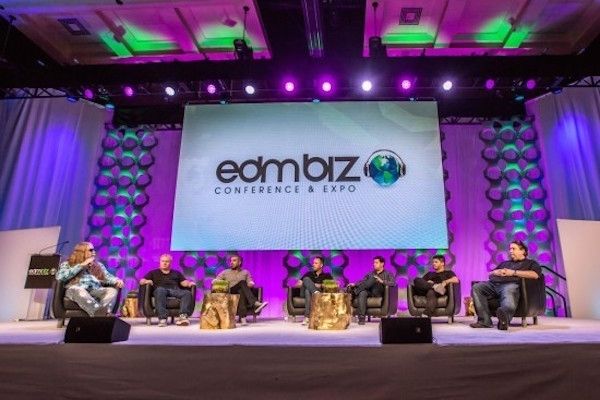 While most casual electronic music fans will be busy picking outfits and worrying about conflicts at EDC Las Vegas, many of the industry's power players will already be in Sin City for the 4th annual EDMbiz Conference & Expo. Taking place June 16-18 in the Cosmopolitan Hotel, EDMbiz will welcome some of the industry's best and brightest executives and artists for three days of progressive and insightful keynote sessions and panel speakers about some of the most pressing issues facing dance music.
Coming off its most successful year yet, the 4th running of EDMbiz promises to be the biggest and best yet, as the conference continues its unprecedented growth to become the industry's most dynamic gathering of executives and artists. In addition to two brand new contests, EDMbiz 2015 will welcome a host of brand new keynote presenters and panel speakers.
Over the course of the three day conference, EDMbiz will feature two distinct keynote sessions, one by President of Electronic Music at Live Nation, James Barton, and the other by Zappos.com CEO and founder of Downtown Project, Tony Hsieh, who will be discussing the "City as a Startup."
In addition to these two keynote sessions, EDMbiz will feature panel speakers touching upon topics like "Dance Music and the Urban Ecosystem: Brooklyn, Detroit, LA" and the "Future of Dance Music Journalism."
While the keynote sessions and panel speakers make up the meat of the conference, there are a plethora of ancillary activities, including night-time club events at some of Vegas' hottest nightclubs. Badge holders to EDMbiz will have exclusive access and expedited entry to any Insomniac-hosted event during EDC Week, including the EDMbiz kick-off party at Omnia with Afrojack, and the closing party with Alesso.
Badges to EDMbiz are available for purchase here, and you can check out the full programming below.
The following Keynote sessions and panels will take place at EDMBiz:
20 Years of Dance Music Through the Lens of AM Only 

Best Record/A&R Contest

Billboard Presents: Dance Power Players 2015

Dance Music and the Urban Ecosystem: Brooklyn, Detroit, LA

EDM: Just the Facts, Man

Emerging Markets: Globalization & Localization

Fourth Annual EDMBiz Artist Panel

Future of Dance Music Journalism

Keynote Session with James Barton, President of Electronic Music at Live Nation

Keynote Session, "City as a Startup" with Tony Hsieh, CEO of

Zappos.com

and Founder of Downtown Project

Radioactive: Listening Trends in a Changing Media Landscape

EDMbiz Startup Contest
Industry leaders joining EDMbiz for a variety of presentations and panels to date will include the following*:
3LAU, Producer/Artist

Andrew Spada, Vice President, Content & Creative, Dancing Astronaut

Austin Kramer, Global Programming Head-Electronic Culture, Spotify

Blaise DeAngelo, General Manager, OWSLA

Brian Zisk, Founder, SF Music Tech

Chad Gillard, Head of A&R, Future Classics

Chip Hooper,Worldwide Head of Music, Paradigm Talent & Literary Agency

Clark Warner, Executive Creative Director, Beatport

Conor Clarke, Founder & CEO,

Wavo.me

David Waxman, Head of A&R, Ultra Music

DB Burkeman, Creative Director, AM Only

Edward J. Hennessy, Director of UPS Entertainment Logistics

Ethan Baer,

EDM.com

George Hess, CEO, Zero2Fifty Group                       

Geronimo, Senior Director of Music Programming, Electronic and Dance Formats, SiriusXM           

Hook n Sling, Artist

James Barton, President of Electronic Music, Live Nation                 

Jason Bentley, Music Director, KCRW

Jason Huvaere, Paxahau

Jason Miller, President – New York, Live Nation Entertainment

Jeff Shaw, SVP, Strategic Alliances – Electronic Music Lead, Live Nation Entertainment

John Amato, President at Billboard /The Hollywood Reporter

John Boyle, Chief Growth Officer & Interim Chief Financial Officer, Insomniac

Jono Grant, Artist, Above & Beyond

Julien Mitelberg, Co-Founder & CEO, Bandsintown Group

Kraig Fox, Director of DCP & Sr. Managing Director, Guggenheim

Krewella, Artists

Kush Patel, Music Partnerships, Twitch        

Larry Marcus, Managing Director, Walden Venture Capital

Lee Anderson, Agent, VP East Coast, AM Only

Matt Medved, Editor, Billboard Dance

Matt Rodriguez, Agent, VP, West Coast, AM Only

Megan Buerger, Staff Writer, Billboard

Mike Darlington, CEO, Monstercat      

Natalia Romiszewski, Director of A&R, Lava Records

Nick Guarino, Founder & CEO, This Song is Sick

Nick Ward, CFO

, 

YourEDM

Pasquale Rotella, Founder & CEO, Insomniac

Paul Morris, Founder & President, AM Only   

Paul Resnikoff, Publisher, Digital Music News

Rachel Springate, Chief Artist Officer, Dubset

Rich Thomas, Vice President of Content, Insomniac

Ryan Mac, Reporter, Forbes

Ryan Roy, A&R, Interscope Records

Simon Rust Lamb, COO, Insomniac    

Steve Martocci, Co-Founder, Splice

Tatiana Oliveira Simonian, Vice President of Branded Entertainment, Nielsen

Ted Cohen, Managing Partner, TAG Strategic

Tommie Sunshine, Producer/DJ/Songwriter/Social Media Provocateur/Raver          

Tony Hsieh, CEO of

Zappos.com

& Founder of Downtown Project

Vijay Nair, Founder & CEO, Only Much Louder