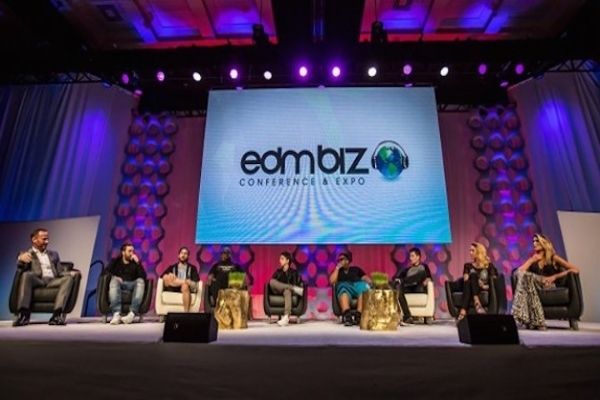 Just over a week ago, EDMbiz revealed their first wave of speakers and panelists with Jason Bentley returning as the host and many of the industries finest returning to the conference & expo along with a batch of new faces. Ahead of its fourth year, EDMbiz announces the final program of speakers and panels that go well beyond just the EDM scope.
For the Fourth Annual Artist Panel, EDMbiz adds Nicky Romero, Oliver Heldens, and Pretty Lights to join the already announced 3LAU, Krewella, and Hook n Sling. For the other notable new additions, Z-Trip and Graham Funk will be joined by David Arevalo – Marketing & Artist Relations Director of Pioneer – and Carmen Rizzo – US Artist Relations Manager for Native Instruments – for a panel titled "What is a DJ in 2015?" Finally, probably the most surprising panel to surface, B-Traits, Maren Steiner – Director of Health & Safety at Insomniac, Dr. Adam Lund – Founder of UBC Mass Gathering Medicine Interest Group, and Dr. Dale Carrison – Professor/Chair of Emergency Medicine at University of Nevada School of Medicine will be heading the edgy discussion of "Drugs in Dance Music: It's Time to Talk" that is sure to be one of the deepest topics at this year's conference.
Across the board, the topics at this year's EDMbiz bring aboard not only the most influential players in the industry but individuals that are influential in other areas that EDM is now affecting as well. You can see the full list below and head over to EDMbiz.com to secure your badge for this year's conference.
EDMbiz Conference & Expo Full Program:
AM Only: A Look Back on 20 Years
Chip Hooper, Worldwide Head of Music, Paradigm
DB Burkeman, DJ /Consultant, AM Only
Jason Miller, Senior Vice President, Live Nation – New York
Jono Grant, Artist, Above & Beyond
Matt Rodriguez, Agent,/VP, West Coast, AM Only
Pasquale Rotella, Founder/CEO, Insomniac
Paul Morris, Founder/President, AM Only
Moderator: Lee Anderson, Agent/VP, East Coast, AM Only
Billboard Presents: Dance Power Players 2015
John Amato, President, Billboard and The Hollywood Reporter
Matt Medved, Dance/Electronic Editor, Billboard
Megan Buerger, Staff Writer, Billboard
Boombox: A&R and How to Get Signed
Blaise DeAngelo, General Manager, OWSLA
Chad Gillard, A&R/Co-Director, Future Classics
Dave Ralph, Music Curator, Insomniac Records
Natalia Romiszewski, Director of A&R, Lava Records
Ryan Roy, A&R/Management, Interscope Records
David Waxman, Senior Vice President/General Manager/Head of A+R, Ultra Records
Moderator: Matt Adell, CEO, Analog Factor Consulting
Chasing the Dream: Entrepreneurship and Funding
Brian Zisk, Founder/CEO, SF Music Tech
Kraig Fox, Director of DCP/Senior Managing Director, Guggenheim Partners
Larry Marcus, Managing Director, Walden Venture Capital
Mike Rothenberg, ‎Founder/CEO, Rothenberg Ventures
Paul Resnikoff, Founder /Publisher, Digital Music News
Rachel Springate, A&R for Start-Ups/Founder, Enright
Moderator: John Boyle, Chief Growth Officer/Interim CFO, Insomniac
Dance Music and the Urban Ecosystem
Chief Judge Gerald Rosen, U.S. District Court Eastern District of Michigan
Dr. Christopher Thornberg, Founding Partner, Beacon Economic
Sam Fotias Paxahau, Senior Vice President, Movement Festival in Detroit
Shawn Schwartz, Co-Owner/Operator, Outpost
Zel McCarthy, ‎Editor in Chief, THUMP at VICE Media
Moderator: Simon Lamb, COO, Insomniac
Drugs in Dance Music: It's Time to Talk
B-Traits, Artist
Dr. Adam Lund, Founder, UBC Mass Gathering Medicine Interest Group
Dr. Dale Carrison, Professor/Chair of Emergency Medicine, University of Nevada School of Medicine
Maren Steiner, Director, Health & Safety, Insomniac
Moderator: Mark Lawrence, Chief Executive, Association for Electronic Music
EDM: Just the Facts, Man
Tatiana Oliveira Simonian, Vice President of Branded Music, Nielsen
Fourth Annual EDMbiz Artist Panel
3LAU
Hook n Sling
Krewella
Nicky Romero
Oliver Heldens
Pretty Lights
Future of Dance Music Journalism
Andrew Spada, Vice President of Content & Creative, Dancing Astronaut
Ethan Baer, CEO, EDM.com
Jemayel Khawaja, Managing Editor, THUMP at VICE Media
Matt Medved, Dance/Electronic Editor, Billboard
Nick Guarino, CEO, This Song is Sick
Nick Ward, CFO, YourEDM
Rich Thomas, Vice President of Content, Insomniac
Ross Gardiner, US Editor, Mixmag.net
Moderator: Tommie Sunshine, Producer/DJ/Songwriter/Social Media Provocateur/Raver
More Than a Logo: Brands, Millennials & Creating a Lasting Connection
Clarissa Pantoja, Global Head of Music, InBev
Ed Hennessy, Director of Entertainment Logistics, UPS
Eric Blackwood, Director of Marketing, Dr. Pepper Snapple Group
James Hubert, CEO, STACK Wine
Marshall Osbourne, Head of Music Partnerships and Experiential Marketing Evangelist, Uber
Moderator: Jeff Shaw, SVP, Strategic Alliances, Electronic Music Lead, Live Nation Entertainment
Radioactive: Listening Trends in a Changing Media Landscape
Austin Kramer, Global Programming Head – Electronic Culture, Spotify
George Hess, CEO, Zero2Fifty Group
Geronimo, DJ, Senior Director of Programming-Electronic & Dance Formats, Sirius BPM
Ian Cee, Owner, FOUR80 Music
Joel Salkowitz, President, Sound Ideas Programming Consultants
Michelle Boros, Music Director/On-Air Personality, KAMP-FM Los Angeles/97.1 AMP Radio
Moderator: Clark Warner, Executive Creative Director, Beatport
Team Oliver Heldens
David Brady, CEO, Spin Artist Management
Elaine Schaap, Mom & Financial Advisor
Joost van Aarle, Tour & Production Manager
Karin Koopmans, Artist Manager, MusicAllStars Management
Oliver Heldens, Artist
Moderator: John Amato, President, Billboard and The Hollywood Reporter
Tech Innovation & Disruptive Platforms
Conor Clarke, CEO/Co-Founder, Wavo.me
Julien Mitelberg, Co-Founder/President, Bandsintown Group
Kush Patel, Music Partnerships, Twitch
Mike Darlington, CEO, Monstercat
Stephen White, CEO, Dubset Media Holdings, Inc.
Steve Martocci, Co-Founder, Splice
Moderator: Ted Cohen, Managing Partners, TAG Strategic
What is a DJ in 2015?
Carmen Rizzo, US Artist Relations Manager, Native Instruments
David Arevalo, Marketing & Artist Relations Director, Pioneer
Graham Funke, Artist
Z-Trip, Artist
Moderator: Jason Bentley, Music Director, KCRW