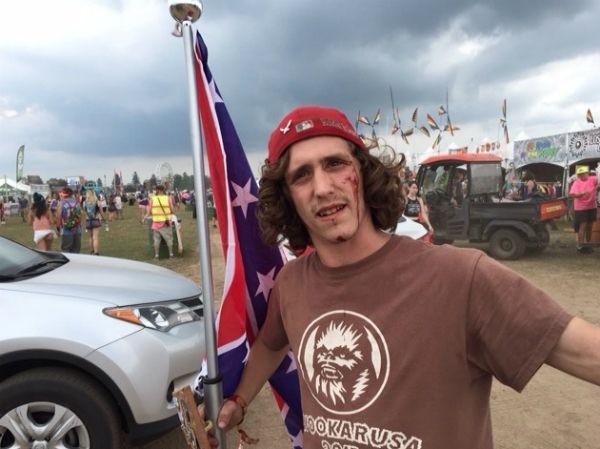 We're not exactly sure what message this guy was trying to send at the opening day of Electric Forest, but the response he received speaks volumes about young Americans' decreasing tolerance for hate in 2015. According to Thump, an individual in a "Wookarusa" t-shirt decided it would be a rather 'brilliant' idea to rock the confederate battle flag-you know, the one that represents centuries of racial injustice in America, and reportedly inspired last week's devastating Charleston church bombing–as thousands of festival attendees lined up for a weekend of peace, love, and dance. David Garber, Thump's Electric Forest man-on-the-street reported the response:
While it's hard to imagine no one reacted brashly to his choice of festival gear before he left the house, it didn't take long before a fellow camper confronted him. Moments before posing for this photo, the flag-holder took a punch to the face from another festivalgoer, leaving him bloodied, though undeterred, grinning and muttering the words 'was born trill.'
Violence is never the answer, folks, but it's hard not to feel just a tiny bit of schadenfreude when a guy like this tries to ruin the party for everybody.
Source: Thump