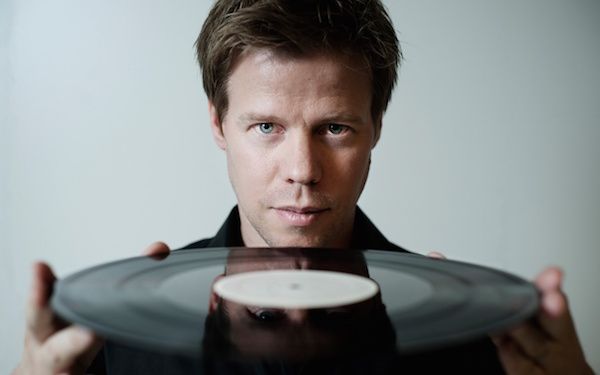 Readying for his show at San Francisco's famous Ruby Skye, Ferry Corsten sports a non-descript black outfit and carries a calm and mild mannered demeanor—he lets his music do the talking. Uplifting melodies, pulsating synths and dreamy vocals, his music enthralls listeners and exemplifies the power of emotions. Corsten is one of the true pioneers of the trance genre, his mastery of these sounds and feelings dates back to the 90s. This seasoned veteran boasts an extensive and diversified portfolio of tracks under multiple aliases, which include System F, Moonman and the famous Gouryella.
"Gouryella," originally comprised of Corsten and Tiësto, literally means heaven and is appropriately known for its divine and uplifting sound. The duo initially released songs in 1999 but Tiesto soon disbanded, leaving Corsten as the sole member of the group. Releasing a single in 2002 under Gouryella by himself, the moniker went quiet for over a decade…until last month. Whipping trance fans into an utter frenzy, the heralded return of the alias sent seismic waves across electronic dance music. Dubbed 'Anahera', the new Gouryella single rewarded fans with the trance they had grown to love over a decade ago. Welcomed back with overwhelming enthusiasm, Corsten quickly realized this return's impact on fans. (note: the official the release of 'Anahera' is June 14th.)
"Freaking out, absolutely freaking out [In reference to his fans]. It's really funny to see that the biggest trance fans are around saying "oh my god this is the stuff I've been waiting for" […] It's funny to see now all the response I've seen on twitter and all of social (media). It's been like "I've been waiting for this, the epic, the good feel, the feel good trance."
"It kind of never went away, but I stepped away from the pure trance stuff and started experimenting with more electro type of infused stuff. […] It was almost like a natural thing to go back there. Gouryella was always on my mind, but I couldn't come up with the right melody because Gouryella has a certain vibe to it and everything starts with the melody. Over the last 13 years, maybe I didn't take the time out to sit down and really find that melody, but now all of sudden I ran into it. I found that melody that had that feeling."

"This project will be untouched for now on until the next one and I think that's the only way forwards. The less you touch it, the more precious it becomes. It's been such a precious thing for every trance fan the last thirteen years. I don't want to whore it out right now. I want to leave it, I delivered it and everyone is really happy with it, including myself. No remixes or other bits and extras, this is it."

"There will be more, but probably a year from now. What I hope to achieve with Gouryella is to bring back that big epic sort of thing, which is just playing with your emotions. That's it, nothing more."
In the midst of excitement swirling around the new Gouryella single, it's easy to forget that Ferry Corsten also makes up half of the headlining trance duo New World Punx. Alongside fellow trance icon, Markus Schulz, the duo originally met while vacationing in Ibiza (of course) and hit it off instantaneously. Collaborating on a remix of the classic 'Loops & Tings' by Jens as their first song, the trance DJs have declared their place at the mainstage with performances at EDC Las Vegas, Ultra Miami and most recently, Coachella. This success stems from their strong relationship and even stronger chemistry on the decks.
"With a longer set we just got on auto-pilot, because we both archive our music in the same way. We put the BPM at a key, so sometimes I don't even know what Markus is playing. I just see the BPM at the key, so I look for something similar to this style and then bang…we go. It's really just a jam session and it's not like a pre-programmed set or anything. I wouldn't even know what to do for an hour if my set was pre-programmed."
Above all, Ferry deeply admires his musical partner and considers him in the same category of greatness as another legendary and path-paving DJ.
"You can have a long discussion with me about the best DJ in the world. I think for me there are two DJs that are qualified to have that title, and it's Carl Cox and Markus Schulz. Markus does those twelve hour sets and he does it pretty much with ease. I'm amazed with him sometimes how he does that, the energy you know. It's really cool to see that."
Considered to be one of the best in his category, Corsten does not restrict himself to trance influences but dabbles in a variety of EDM sub-genres. You wouldn't think it, but Corsten enjoys the occasional trap and dubstep tune and his car radio station remains frozen on the liquid drum and bass station.
"Liquid drum and bass is something very different. Any trance producer can learn from that because it's so beautifully produced and it's very melodic. And sometimes it has a bit of a house etch with a drum and bass tempo. I actually get a lot of inspiration out of the particular music.

As a producer I love being in a studio doing everything, I love making a deep house record, I love making a techno track, but I cannot release it anymore under my own name. I've done that and it doesn't work. You'll probably hear a lot of my music in the future that is under different names, you wouldn't even know it's me."
Whether you know it's his music or not, the versatile Ferry Corsten has etched his name in trance and electronic dance music forever. As he continues to achieve paramount success, it would be easy for him to successfully venture into other mainstream genres. Instead, he has stayed true to his roots and consistently pumped out memorable trance anthems, most recently with "Anahera". Having already accomplished so much in his career, expect Ferry to do more of the same in the future—but hopefully this time we won't have to wait another 13 years to see a track produced under Gouryella.
On Tuesday, Ferry Corsten announced his FullOn North American tour starting in September. You can purchase pre-sale tickets here.