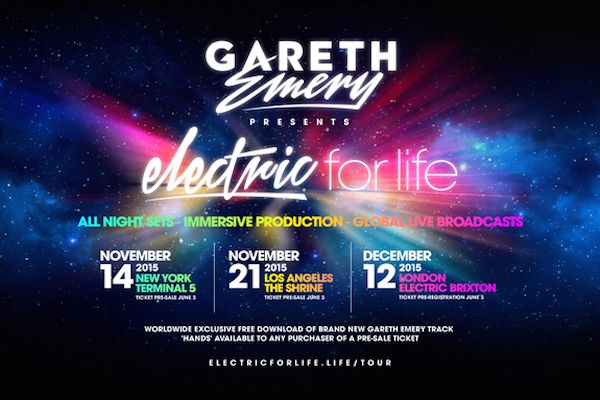 One of the more bankable names in electronic music,
Gareth Emery
recently hit #1 on the iTunes dance charts with his single 'Drive', and he shows no signs of slowing down. To commemorate the one year anniversary of his Electric for Life radio show, Emery is yanking the show on the air and turning it into an incredible live experience. Touted as an "interactive and innovative journey," the tour will take place in three of the world's most renowned venues. Promising deep and progressive uplifting tunes, the British DJ will kick off the tour on November 14th at New York City's well-known Terminal 5, and will then head to LA's huge Shrine Exposition Hall for a November 21st show. Emery will wrap up the tour at home in the UK at Electric Brixton in London on December 12th. The Electric for Life tour promises unique production, and Emery can't wait to see his vision brought to life:
"Electric For Life is hitting the road and I cannot wait. These are going to be the best shows of my career, we are pulling out all of the stops to create something truly remarkable for the fans, a lot of which no one has ever done before. We are creating a beautiful world to come and experience the absolute best that our amazing genre has to offer, and we are going to celebrate 1 year of Electric For Life, and we are going to celebrate it hard!"
Pre-registration for tickets can be done now at the Electric for Life website, with those tickets being made available June 3rd, and a general sale opening June 5th.
Emery also dropped a new track today, so be sure to listen to it below.