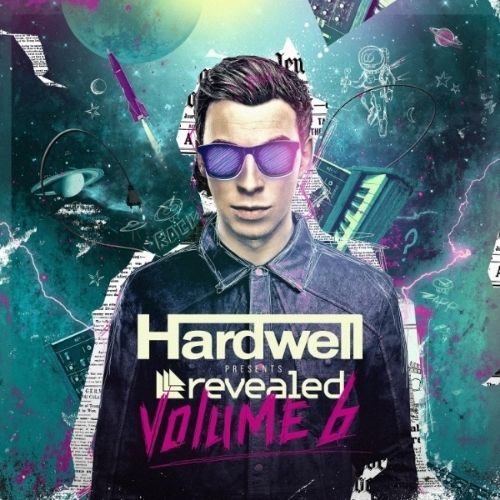 Set to blow the speakers out at every major festival this summer, Hardwell is still a force to be reckoned with. He quickly turned from rising producer into main stage legend in a matter of a few years, and continually not only pushes his own career forward, but he pushes the careers of the producers under him and his Revealed brand. Heading into its sixth installment, Hardwell has announced the tracklist for his Revealed Volume 6 compilation and it may be the most astounding to date.
Revealed Volume 6 follows its past installments in similar suit with an assortment of big room bombs, but Hardwell keeps it fresh with a carefully blended mix of both veteran and neophyte talents. For big name artists on Revealed Volume 6, fans will see Tiesto & KSHMR's "Secrets," W&W's new remix of Hardwell's "Birds Fly," and Henry Fong & Futuristic Polar Bears' "Velocity." In terms of new talent, we see names like ak9, JAGGS, Manse and Row Rocka. Revealed Volume balances every side of the big room spectrum that Hardwell expertly perceives and proves his astounding tastemaking abilities.
Just about to embark on a hectic EDC Week including a Main Stage performance at EDC Las Vegas, Hardwell puts the sounds of his Revealed Recordings' imprint at the forefront to give his fans a taste of what the rest of 2015 will entail. You can now pre-order Revealed Volume 6 below ahead of its June 19th release, and take a preview of the compilation with the official minimix up for free download and tracklist.
Pre-order: Hardwell – Revealed Volume 6 | iTunes

COMPLETE TRACKLIST:
1. 3LAU & Nom De Strip feat. Estelle – The Night (ak9 Remix)
2. Tom & Jame – Find You (Edit)
3. Dannic feat. Bright Lights – Forever (Edit)
4. Manse feat. Alice Berg – Freeze Time (Edit)
5. Hardwell feat. Matthew Koma – Dare You (Radio Edit)
6. Armin van Buuren feat. Mr Probz – Another You (Mark Sixma Radio Edit)
7. Hardwell & Dannic feat. Haris – Survivors (Edit)
8. Tiësto & KSHMR feat. Vassy – Secrets (Original Mix)
9. Ralvero & Kill The Buzz – Dreamin (Edit)
10. Alpharock & JAGGS – Bassface (Edit)
11. Hardwell feat. Amba Shepherd – Apollo (Radio Edit)
12. Nom De Strip – Aliens (Original Mix)
13. JAGGS – Ramper (Original Mix)
14. Lucky Date feat. Sabrina Signs – I Like You (Edit)
15. DallasK – Retrograde (Edit)
16. Henry Fong & Futuristic Polar Bears – Velocity (Edit)
17. Hardwell & Wiwek – Chameleon (Instrumental Edit)
18. W&W & Blasterjaxx – Bowser (Edit)
19. Karim Mika & Moe Aly – Quantam (Edit)
20. Thomas Newson & Joey Dale – Timecode (Edit)
21. Holl & Rush vs Tom & Jame – Buddha (Edit)
22. Hardwell & Dyro feat. Bright Lights – Never Say Goodbye (Radio Edit)
23. Maddix – Riptide (Edit)
24. Row Rocka – Colossus (Edit)
25. Dyro – Pure Noise (Original Mix)
26. Hardwell feat. Mr. Probz – Birds Fly (W&W Remix Edit)