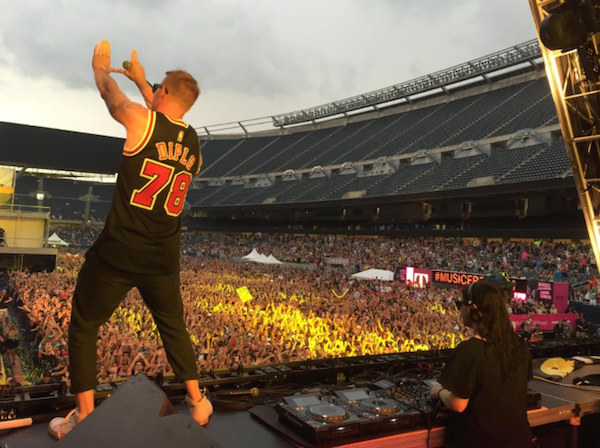 Months back when Chicago's annual Spring Awakening Music Festival announced the 2015 lineup, they left room for a furtive headliner that would later be announced. Revealing hints that the headliner would be making their Chicago debut, eagerly awaiting fans were particularly pleased to discover that Skrillex and Diplo would be giving Chicago a taste of Jack Ü Saturday June 13th.
Jack Ü took the main stage crowd by storm Saturday evening. Sonny and Wes pulled out all the stops for the densely packed throng of attendees as they obliterated their over 48 minute set. Jack Ü have certainly set high standards for their shows and this past Saturday, the power duo exceeded all expectations. Skrillex and Diplo did not hold back as they made their Midwestern debut one to remember. The pair graced Chicago with a high-energy 48 track setlist which featured tracks from Valentino Khan, Dillon Francis, Sum 41, Major Lazer, ILoveMakonnen and of course, some original Jack Ü material that fans were craving.
Skrillex and Diplo effortlessly raise the bar for each and every Jack Ü performance. With sets like this, it's no wonder the collaborative duo are respectively at the forefront of the scene. If you did not attend Spring Awakening Music Festival this weekend past, or were unable to tune in to the live stream, Jack Ü's mayhem-filled set is available to view below. If you hear something you like, also check out their track list accessible beneath the video.
Tracklist:
01. DJ Fresh & Diplo – Earthquake (Yellow Claw & LNY TNZ Remix)
02. Schoolboy Q – Collard Greens
03. Skrillex – All Is Fair In Love And Brostep (feat. Ragga Twins)
04. Yo Majesty – Club Action (Smookie Illson Bootleg)
05. Yogi – Burial (Skrillex & TrollPhace Remix) [G-Buck Edit)
06. Steve Aoki & Diplo & Deorro – Freak (Rickyxsan Remix)
07. Beyonce – 7/11 (Skrillex & Diplo's Jack Ü Remix)
+ Flosstradamus & GTA – Prison Riot (feat. Lil Jon)
08. C&C Music Factory – Gonna Make You Sweat (Everybody Dance Now)
+ Justice vs. Simian – We Are Your Friends (Acapella)
09. Skrillex & The Doors – Breakin' A Sweat
10. Calvin Harris – Summer (Diplo & Grandtheft Remix)
11. Fetty Wap – Trap Queen
12. KANDY – Booty's There
13. Ragga Twins – Bad Man (Skrillex Remix)
+ Virtual Riot – Warm-Ups
14. Kanye West – Power / Diplo – Revolution / Flux Pavilion – I Can't Stop
15. Yeah Yeah Yeahs – Heads Will Roll (A-Trak Remix / Kid Kamillion Trap Edit)
16. Major Lazer – Roll The Bass
17. Skrillex – Ragga Bomb (Skrillex & Zomboy Remix)
18. Skrillex & Diplo – Beats Knockin (feat. Fly Boi Keno)
19. Migos – Fight Night
20. Skrillex & Kill The Noise – Recess (feat. Fatman Scoop & Michael Angelakos)
+ JumoDaddy – Black Horse
21. Sum 41 – Fat Lip
22. Nas – Made You Look (Aazar Edit)
23. Dillon Francis & DJ Snake – Get Low (Rebirth In Paris)
24. Wiwek – Bang Bang Theory (Instrumental Mix)
25. Valentino Khan & DJ Kool – Make Some Noise
26. Chedda Da Connect – Flicka Dat Wrist
27. Eptic – The End (Carnage & Breaux Remix)
28. Skrillex – Ragga Bomb (Skrillex & Zomboy Remix)
29. Skrillex & Kill The Noise – Recess (feat. Fatman Scoop & Michael Angelakos)
+ JumoDaddy – Black Horse
30. Sum 41 – Fat Lip
31. DJ Snake – Turn Down For What (feat. Lil Jon)
32. Martin Garrix – Animals
33. GTA – The Crowd
34. Douster – King Of Africa
35. Skrillex & Diplo – Jungle Bae (feat. Bunji Garlin)
+ Skrillex & Diplo – Jungle Bae (Demo)
36. Knife Party – Internet Friends
37. Skrillex & Kill The Noise – Recess (Valentino Khan Remix)
38. Skrillex & Diplo & Snails – Holla Out (feat. Taranchyla)
39. Rihanna – Bitch Better Have My Money (Flosstradamus Remix)
+ Eptic – The End (Breaux VIP)
40. Major Lazer & DJ Snake – Lean On (Dillon Francis & Jauz Remix)
41. DJ Khaled – All I Do Is Win
42. Skrillex & Diplo – Dirty Vibe
43. Skrillex & Diplo – To Ü
44. SLANDER & NGHTMRE – You
45. Skrillex – Kyoto (feat. Sirah)
46. Skrillex & Diplo – Mind (feat. Kai)
+ Snoop Dogg – Drop It Like It's Hot (Acapella)
47. ILoveMakonnen – Club Goin Up (Tuesday)
48. Skrillex & Diplo – Where Are Ü Now (feat. Justin Bieber)
+ Where Are Ü Now (Marshmello Remix)