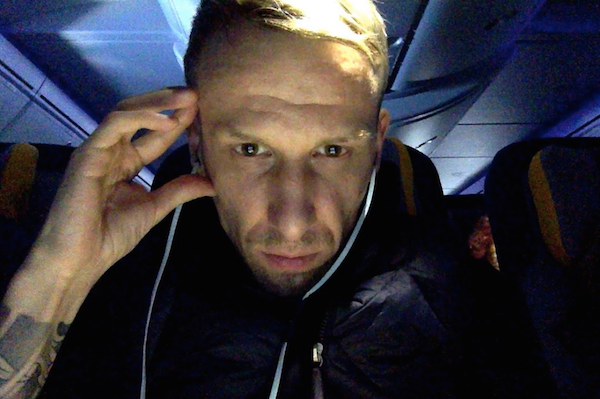 Lithuanian musician Marijus Adomaitis, otherwise known as
Ten Walls
, wrote an extremely homophobic post on his personal Facebook page, and is now receiving heavy backlash from the entire dance music community, as well as getting dropped from several festivals for his comments.
The post was first picked up by Gay Star News, and quickly spread to other media outlets. Creamfields was the first festival to take action, issuing a statement announcing the removal of Ten Walls from the lineup.
"Whilst we respect freedom of speech, we find his defamatory and prejudiced comments about the gay community extremely offensive and feel that this is not in line with the spirit of Creamfields."
Following suit were two other festivals at which Ten Walls was scheduled to appear—PITCH Festival Amsterdam and Sónar in Barcelona. PITCH and Sonar's statements can also be seen below:
"We are against any form of discrimination whatsoever, on and off our festival site. Comments like these are so far from our beliefs that it wouldn't make any sense to have this act playing our festival," and Sónar :

"Ten Walls will no longer be appearing at Sónar 2015 as his statements are at odds with the nature and ethos of the festival."
Ten Walls, known for his hit 'Walking with Elephants,' subsequently cancelled all of his upcoming tour dates to avoid the inevitable cancellations that were to come. Ten Walls has erased the post from his personal Marijus Adomaitis page, and replaced it with an apology on his Ten Walls artist page:
"Last week I wrote a Facebook post that was wrong and completely out of character and the result was a badly written post that was unacceptable. It was never my intention to offend anyone. I'm really saddened by everything that has happened and I would like to apologise to everyone I've let down, especially to my friends in the gay community, and my fans.

I now need to take a break and have cancelled my upcoming shows."
According to Gay Star News, the exceptionally homophobic and offensive post (originally in Lithuanian) translates as follows:
"I remember producing music for one Lithuanian musician, who tried to wash my brain that I don't need to be so conservative and intolerant about them."

"When I asked him "what would you do if you realized that your 16-year-old son's browny (anus) is ripped by his boyfriend?" Well he was silent."

"One of my first gigs in Ireland, on my way to [my] hotel I saw a church with a fence decorated with hundreds of baby shoes. Naturally I wondered why?"

"Unfortunately a priest's lie for many years was uncovered when children were massively raped. Unfortunately the people of other breed continue to do it and everyone knows it but does nothing."
It's incredibly unfortunate to read these words coming from a man who produces music for a community that supposedly thrives off the belief "Peace, Love, Unity, and Respect." Having already embarrassed himself enough, Ten Walls has made the right call to lay low for the time being. Who knows when or if we will publicly hear from Marijus again, but for now our community can rest easier knowing that these comments will not be tolerated from any member.
You can see a screenshot of the original non-translated post below.