Being just three weeks after my absolutely magical Electric Forest experience, Camp Bisco had a lot to live up to. On a less personal level, Camp Bisco also had to match the expectations of fans who patiently endured the festival's one year hiatus. Previously located at the Indian Lookout Country Club in Mariaville, Bisco consistently fell under scrutiny for a variety of safety concerns that included a 2012 lawsuit. After taking a one year break, the festival relocated and rebranded, moving to Scranton, Pennsylvania's Montage Mountain. The locale turned out to be an excellent choice, playing the perfect host for a surreal weekend.
Originally set to begin on Thursday the 16th, Bisco treated its early arrivers to live music the day before. From 6 pm on, Wednesday featured DJ sets from artists like Adam Deitch and Diversa on the the deck of the Disco Lodge. Although I was unable to arrive at Bisco until Thursday night, this was a pleasant surprise for all in attendance that demonstrated the thoughtful planning of the festival. It kicked off the weekend in proper fashion, allowing for an immediate immersion into the madness that would soon commence.
This "madness" came a lot sooner than anticipated, with a dramatic disturbance occurring during just the third set on Thursday. The electronic-rock fusion band Zoogma was playing at 6 pm when a crazed fan was seemingly unhappy with their performance. Taking matters into his own hands, he leapt onto the stage and treated the band's equipment the way the Kool Aid Man treats walls. Although he broke band member Ryan Nall's toe and several pieces of equipment, Zoogma gracefully went on with the remainder of their set. This was one of several incidents during the course of the weekend that reminded us why Bisco was so controversial in the first place. I personally witnessed 2 (very brief) chases between attendees and security, as well as a handful of scary scenes involving medical intervention. Still, it seemed as if the Bisco staff commendably responded immediately and appropriately to whatever situations arose.
While some dedicated Bisco attendees may have bemoaned the break from tradition in the venue change, Montage Mountain had a staggering amount to offer. With the constant raging that took place at Camp Bisco, relaxing distractions were an absolute necessity. Luckily, Montage Mountain had them all, offering scenic ski lift rides, ziplining, volleyball and waterslides. The place even had a lazy river, which is essentially the epitome of relaxation. The ability to recover from Bisco's insanity with multiple laps in a lazy river was unique yet felt absolutely necessary. It was also incredibly cool for me to ride the ski lift and get a bird's eye view of the beautiful mountain while hearing the smooth sounds of Exmag.
The layout of the stages was very well designed, with each offering their own distinctive perks. Electric City was the mainstage, taking place in a sprawling tent with an impressive sound system. During the day, the stage was ideal as it was shaded and offered an endless selection of seats. While this was perfect for chilling at a midday set, it was rather chaotic at night when someone like Bassnectar played. There was only a small open area up front for VIP, with everyone else forced back into the seated section. Regardless, this was overshadowed by everything else the stages had to offer. Above the Waves had two prime chilling spots, as it featured both a wave pool and a large hill with an excellent view. Steamtown was an intimate stage with superb visuals that offered an escape from the rest of the festival. Disco Lodge was indoors, with some much needed air conditioning and food options.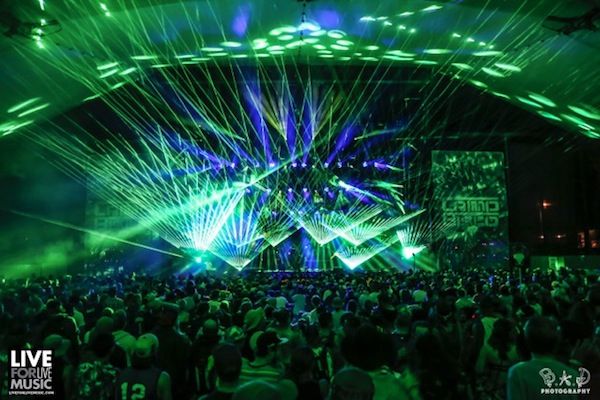 Of course, there were also some downsides to the choice of venue. Montage Mountain was indeed a mountain, with daunting treks up the hill for late arrivers looking to set up camp. The inescapable slope in the campsite made for an uncomfortable sleeping arrangement, with some needing to fight the force of gravity just to get some rest. The limited size of the campsite also restricted the opportunity to camp next to one's car, which made for some inconvenient lugging of tents and coolers. Those who didn't purchase a parking pass had to park off-site, with shuttles running to and from the lot. While one lot was close-by and ran these fairly often, the other was about 20 minutes away and ran them very infrequently. Although these issues inconvenienced many campers, the venue's pros vastly outweighed the cons, especially when considering that it was just the first year there.
While the venue was nice, the music is what truly made Camp Bisco so impressive. The festival featured an extremely diverse lineup with a special emphasis on heavy bass, funk and bands with electronic fused elements. The electronic-rock fusion bands kicked off the festival with STS9 performing right before The Disco Biscuits played their first set of their festival. Pretty Lights then delivered a magical cap to Thursday, dropping a fun and funky set that delighted the crowd by going 30 minutes past schedule. Just like every night, the party continued until 4 am in the Disco Lodge with Freddy Todd throwing down.
Friday featured a more cutting edge lineup with up and coming artists who played up and coming genres. Louis Futon showcased his unique future bass style, followed by Justin Jay's groovy tech set. From Justin Jay on I was unable to leave Steamtown, as I gleefully took in standout sets from artists like Sweater Beats and Lido. While Mr. Carmack played a phenomenal set, it was unfortunately interrupted when the sound system gave out. He recovered nicely yet the vibe was undeniably broken by the incident. When Trippy Turtle later closed out the stage, he expressed his frustration at what happened and called out Mr. Carmack for a rare b2b set. The two absolutely killed it, closing out Saturday in the best way imaginable.
Then came the day everyone had been waiting for, as Saturday would be headlined by the Bass God himself. With artists like Trollphace and Ape Drums throwing down some heavy bass earlier in the day, the tone was set from the get go. Then out of nowhere, Camp Bisco was blindsided by seemingly disastrous news. There was a tornado warning in the area, and everyone scrambled inside to seek shelter from the downpour. Last year's Hudson Project attendees began having brutal flashbacks of when weather got the third day of that festival cancelled, leaving them with permanent trust issues and blue balls for Bassnectar (and Tipper). Of course, not even bad weather could get Camp Bisco down, as fans could be seen jamming out inside to timeless classics like Rick Astley's 'Never Gonna Give You Up' and Knife Party's 'Centipede.' Then the brief moment of panic came to a merciful end, as a majestic Double Rainbow appeared in the sky. Yes, a real double rainbow ALL THE WAY. The Bass Gods themselves had sent it, clearing the skies in dramatic fashion for the epic performances that would ensue.
Having just been to Electric Forest, I was fresh off a mind-blowing performance from Lorin Ashton. He had catered his set perfectly to the Forest, starting it off slow and melodic and gradually building the vibe by taking his fans on a journey. Bassnectar is a master at specially crafting his sets to fit the atmosphere of the venue. He did just that at Camp Bisco as well, delivering an absolutely wild set with non-stop bangers and a ridiculous amount of energy. Just as at Electric Forest, Bassnectar delivered my favorite set of the weekend.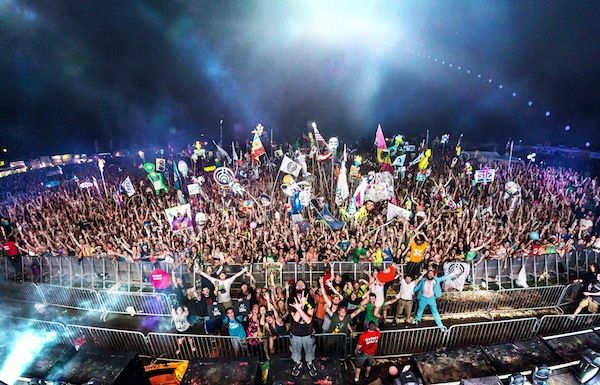 Jauz followed up Bassnectar in admirable fashion, delivering a fun and lively set where he showcased a lot of his new material. After him came Tipper, a set I was eagerly anticipating as I never had the privilege to see the brilliant Dave Tipper. He did not disappoint, as his uptempo set blew me away for its unparalleled musicality and jaw dropping visuals from the talented Johnathan Singer. This was the perfect close to the festival, as Tipper's unique style was a logical fit for this stellar lineup.
All in all, it is safe to say that Camp Bisco redeemed itself for its one year hiatus. It gave its fans an incredible weekend of good vibes and even better music. We can now only countdown until the reunion at Montage Mountain in 2016.