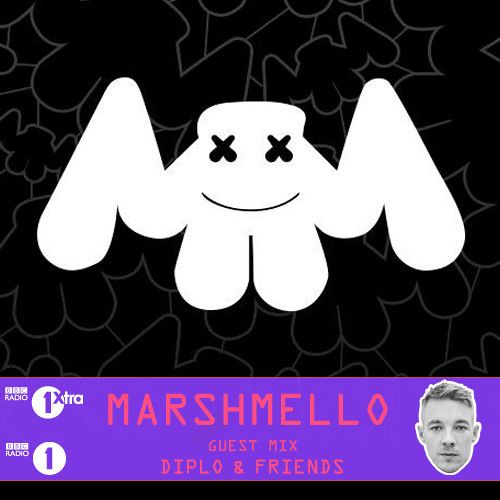 Diplo & Friends Guest Mix- Marshmello
There has been significant hype surrounding Marshmello, with rumors swirling everywhere about the mysterious producer's identity. After making a SoundCloud just 4 short months ago, Marshmello has already found his way onto a Diplo & Friends guest mix. The anonymous producer easily justified the selection, as he proceeded to slay the airwaves with an impressive 1 hour mix. Marshmello tracks were in abundance, as fans were treated to Marshmello's new 'Where Are Ü Now' remix as well as originals like 'KnOw mE,' 'WaVeZ,' 'FinD Me,' 'WroNg,' 'BLocKs' and 'WaNt U 2.' Marshmello also teased some brilliant new music, dropping 1 tantalizing ID as well as the unreleased 'Waiting For Love' and 'Beautiful Now' remixes.
In addition to his own music, Marshmello's mix found time to promote hoards of impressive artists. A few superstars made it into the mix, as Jack Ü's 'Mind,' Major Lazer's 'Lean On' and Flume's 'HyperParadise' were welcome inclusions. Where Marshmello really shined is by featuring talented young artists such as Wave Racer, Lido, Louis the Child, Yacht club, Hoodboi, Trippy Turtle, Prince Fox, San Holo and AObeats. Marshmello even managed to dig out some lesser known treasures from big artists, such as Diplo's 'Will Calls,' 'What So Not's 'The Quack' and DJ Snake's 'Club Going Up On A Tuesday.' All in all, Marshmello absolutely destroyed this mix and solidified his spot as a player in the industry for a long time to come.