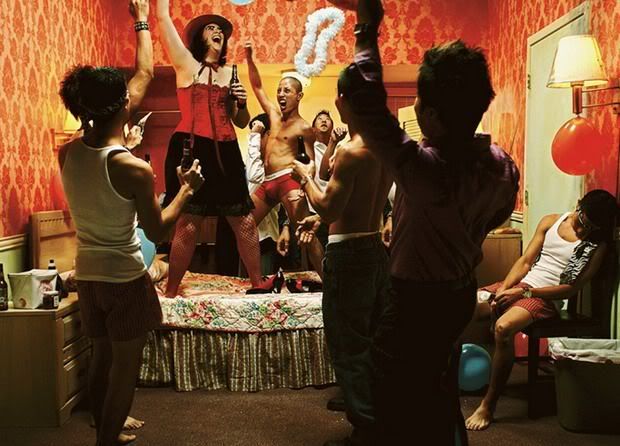 Sensation. Beyond Wonderland. Electric Daisy Carnival. These and many other events push the limit when it comes to huge live events. When EDCLV is serving 115,000 headliners a day, we wonder how much bigger parties can get. This eternal trend in maxi parties has redefined the word "massive" for almost 2 decades now. However, a reaction movement to the mega party has grown in parallel for the last couple of years or so. That is, the advent of the "microparty." What's the difference between a "microparty" and just getting drunk with your friends and bumping the aux cord?
A microparty is a group of 5-20 people hanging out on a roof, around an RV, at a festival, a hotel room, a section of the beach or a small pool where you're all to yourself. There's a big difference between VIP & a microparty. When you're in VIP, even if you've got your own area, you're still beholden to the crowd and their taste. The DJ is playing for everyone in the room, not just you.
A microparty has all the amenities of VIP & many more. Skrillex & Diplo are notorious for throwing parties wherever they are, whether it's a lux NYC hotel room, a house in the Hollywood hills or just showing up after their live set at a festival. Making sure your micro party has a dope DJ, even if they're not in the DJMag Top100, can make your night. The DJ needs to hopefully know at least some of the people in the room personally, and knows how to read a (very small) crowd. No one wants to hear albums played straight through. No matter how good you think you are, we can tell you're just pressing play on an iPhone.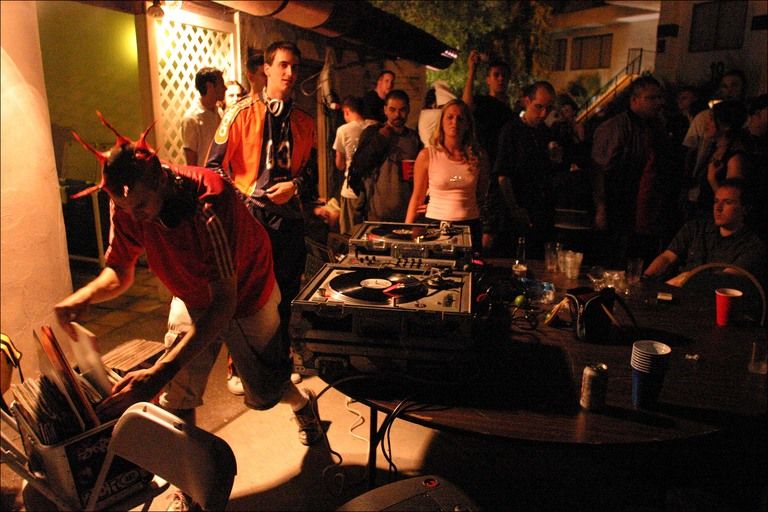 Lots of people maintain that turntables & professional rigs are required, something as big as 2 cdjs & a djm is still needed hold it down. For the global DJ on the go, increasingly however, the laptop (MacBook Pro, usually) has taken the world by storm. With the ability to output everything a DJ needs to beat match, sync, connect with midi controllers, and output the correct format to your speakers. Portability is key for spur of the moment party time. With everything from iRig system that lets you truly mix between systems and a wide variety of software addons for laptops & tablets, the system required for
If your speaker is too big to bring with you in your suitcase to a fest, there's no chance of having a spontaneous party. This is one of the biggest problem microparties face. Most people are either carting in studio monitors (read: getting the cops called on them) or we're listening to sick new psy-step tracks on the hotel TV speakers. There's a sweet spot you've gotta shoot for when it comes to performance, low-end response & not breaking the bank of course. If you're spending hundreds of dollars on speakers just to lug them around, just pay for VIP at the club. However, a couple of decent options for the wandering producer have started showing up.
First, know your space and your day. If you need to stow this thing in a bag so that it can follow youfrom the party to the afterparty, think about something on the smaller side. There are definite options (like the 808 linked) that go a long way. This XS has actually replaced my kitchen sound system. Whether I'm chopping vegetables or mixing drinks, this thing pairs with my HTC One (and my partner's iPhone) in a second or two and provides something I've never experienced from a bluetooth speaker: Quality Stereo Sound. I had just assumed that I'd be stuck listening to mono while entertaining away from my primary home stereo system, and now, I'll never go back.
If you're on a beach or anywhere else with sub-par lighting, any little bit helps. While the kids are all into the speakers with the glowing water, you're going to want something a little more durable for your travels or a rowdy party. One stupid drunk move and those things are shattered. This one is a bit more durable, and the glowing effect is a little less juvenile than what you get from the competition for about $50.00 more.
On the last tier, if you've got a fixed event and you really want to pour it on, you definitely need to make sure you have a speaker with a dedicated tweeter & a bass driver. For everyone reading this who isn't a sound geek, this basically means you need something that looks like an actual speaker. On this, for less than 80 bucks, you can actually get something that won't get you laughed out of the room. The HEX TL is one of the only bluetooth speakers I've ever come across with those pieces of hardware built in. Usually, you're fucking with power cords and exposed wiring trying to get something set up. With this set up, you can get the stuff paired in the elevator on the way up and have the system ready to go by the time you burst into the room. For purists, there's an aux input capability, for all those times the beats are too crucial to rely on the wireless. Get to it! If you end up throwing a dope party, don't forget to invite EDMTunes!