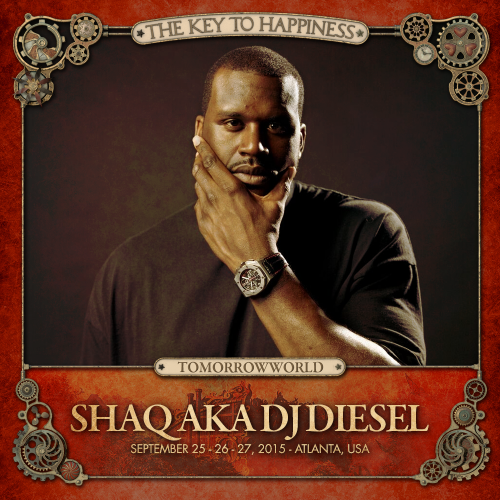 At last, behold the 2015 TomorrowWorld Lineup. Many of us have been waiting for the release of this year's lineup and the time has finally come. Adding to an already stacked roster of world famous DJs, the lineup includes even more massive names. Slander, Snails, Cosmic Gate, Audien, TJR and Destructo are just a few of the talented acts that will be performing this upcoming September in the magical world of tomorrow. Taking a closer look at the alphabetically arranged artists, you may even notice that retired NBA superstar Shaquille O'Neal will be performing as Shaq Aka DJ Diesel.
Most would inquire as to what kind of set he will be playing, and to give fans a taste of what DJ Diesel is all about, he put together an exclusive, hour-long mix for the festival. The description on the stream says he will be playing a Trap set at the festival, but his mix goes across a myriad of genres. From trap to dubstep to a little of everything, Shaq's skills behind the decks may be comparable to his skills on the court.
Exclusive TomorrowWorld Mix: Shaq aka DJ Diesel | Download

With ID&T and SFX backing an already promising lineup with world-class production, this year's festival is destined for success. Want to unlock your key to happiness? Don't forget to purchase your tickets for TomorrowWorld here, if you haven't done so already.