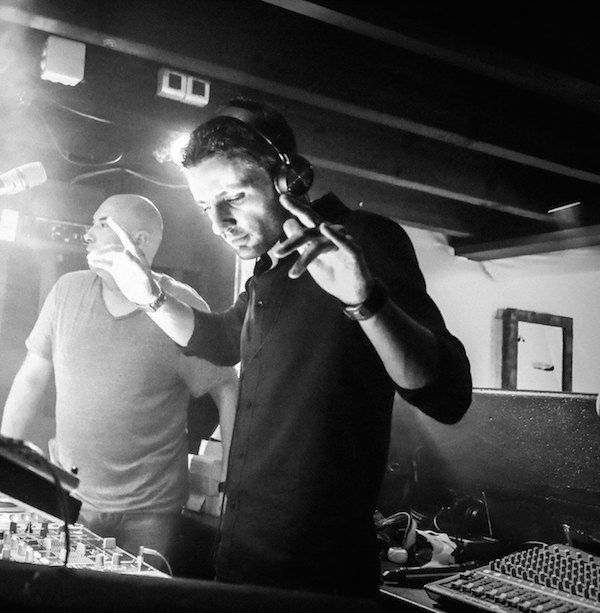 It's rare to see an emerging producer like Naxsy with such a strong grasp on the inner workings of the music industry, but maybe that's because Naxsy is a veteran donning a rookie persona. Naxsy kicked off his music career as a touring DJ, playing shows all over Europe, and touring in Canada with Mohombi. It wasn't until he was nearly a decade into his DJing career that Naxsy morphed from a touring DJ into a full-fledged producer.
Armed with his mission of injecting some more groove into an apathetic world, Naxsy is looking to draw people to the dance floor with his irresistible disco beats and sun-kissed melodies. He's already taken on pop sensations like Shakira, Whitney Houston, and Wonderwall to great success, and the sky's the limit for the Parisian beatsmith. We caught up with Naxsy last week, ahead of the release of his latest single, "Get On The Floor."
How did you first get into producing music?
"After over 10 years of DJing, I started making a few bootlegs and mashups, and little by little, making my own melodies started to become more important to me. This is how I put more time into producing completely original sounds and lots of remixes."
What were the biggest struggles in teaching yourself how to produce and write music?
"The biggest hurdle was to be a self-taught producer and learn everything from scratch. I do not know how to read or write music, or any music theory for that matter, so I just started playing by ear, and had to put a lot of trust into my ears."
How has being a DJ for 10 years before becoming a producer helped you?
"I have always considered a DJ a musician, even though we play other people's music, because we have to master the skill of mixing music, which essentially creates a new song. DJing and producing have a lot of things in common, such as the rhythm and the tone. Everything is really important and comes into play when you are mixing, and the same happens when you're producing your own track, so having that experience helped me a lot."
What is the European dance music scene like right now?
"There's a lot going on here, like always. Festivals like Tomorrowland and Creamfields, or holiday destinations like Ibiza and Croatia are not only the dream for the big crowds, but also for us music producers. These festivals seem to always be setting the new music trends. For example, Scandinavia is the home to so many talented producers right now, and it's a constant evolution that has been going on and on for years now."
Who are some other producers that you look towards for inspiration?
"I am a big fan of Avicii and Kygo because of their melodies, but I'm also inspired by the likes of DJ Snake, Skrillex, and Diplo. Going even further back to the 80s, I find inspiration in bands like Kook and The Gang and Earth, Wind, and Fire. They're all huge inspirations and keep me going."
How would you define your sound?
"I would define my music as eclectic. It's very close to tropical house and nu disco, but with plenty of other influences as well. I enjoy mixing funky music with tropical melodies or vice versa and experimenting new formulas to see what I get."
You began producing tropical house before switching into more nu-disco sounding tracks. Why did you decide to take that route?
"To be honest, I didn't change my style all that much. I'm still into tropical house, but I've been trying to broaden my style to make it more fun to dance to, and to make it more club friendly. My main goal, and strongest focus, is to make people dance, especially the girls, so #dancewithNaxsy ;-)"
Where do you think dance music is going in terms of genres and sounds?
"I believe that music is always a cycle. Every trend comes back after a few years before fading away again. I think that right now, people are seeking melodies, and music to sing-along, and dance to. I love that multiple pop hits are starting to incorporate more and more funk, and that dance music is following the trend."
What is the largest hurdle you've encountered trying to break into the dance music scene?
"There are so many obstacles in the music industry! So many people want to make it here and the market is so saturated that it becomes hard to get people's attention and make your sound stand out. I got lucky and found the attention of my label, so now I'll work hard to keep it :)"
What are the next steps moving forward in your career?

"I am living day-by-day, and I don't think about tomorrow. It helps me keep focused, but the hope is that you will start to see more of Naxsy in the US, and to tour the world very soon."
If you missed "Get On The Floor," you can check it out below and get it on iTunes here.