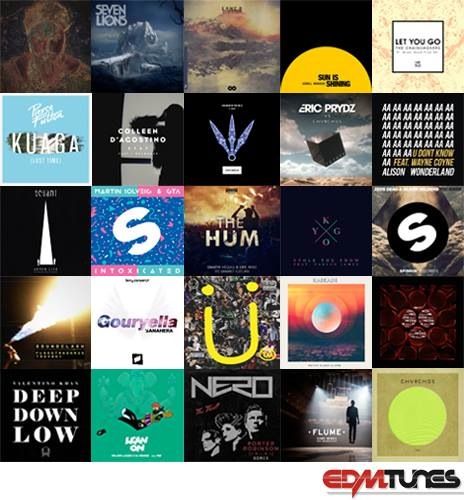 EDMTunes' Top 25 Songs Of 2015 (So Far)
Now that the latter half of 2015 is finally here, we can look back on the first six months and remember the songs that defined it. Rather than having one or two writers give their take, we decided to poll our whole staff in order to ensure that the final product is a true representation of EDMTunes.
We asked our writers to submit a list of the '10 best tracks of 2015′. Whether they took that request as their '10 favorite songs' or the '10 biggest songs' was up to them, which is what makes this poll as fair as can be. The song had to be released in 2015, which is why tracks like Jauz's "Feel The Volume" are not on the list. Although it may have blown up in 2015, it was actually released in 2014. Their #1 choices were given 10 points, #2 were given 9 points, #3 were given 8 points, and so on. Ties were broken by which song had more people vote for it and if that didn't solve the problem, it came down to seniority.
Now that the process has been explained, let's take a look at the Top 25. Songs 25-11 will simply be listed below and the top 10 will feature small commentaries.
25. Dimitri Vegas & Like Mike vs Ummet Ozcan – The Hum [10 points]
24. Seven Lions – Lose Myself ft. Lynn Gunn [10 points]
23. Lane 8 – Hot As You Want ft. Solomon Grey [10 points]
22. Sam Smith – Lay Me Down (Flume Remix) [10 points]

21. Damian Lazarus & The Ancient Moons – Vermillion [10 points]
20. The Chainsmokers – Let You Go ft. Great Good Fine Ok [10 points]
19. Martin Solveig & GTA – Intoxicated [10 points]
18. Steve Angello ft. Mako – Children Of The Wild [11 points]
17. Pierce Fulton – Kuaga (Lost Time) [12 points]
16. Zeds Dead & Oliver Heldens – You Know [14 points]
15. Alison Wonderland – U Don't Know ft. Wayne Coyne [15 points]
14. Flosstradamus & TroyBoi – SOUNDCLASH [15 points]
13. Kygo – Stole The Show ft. Parson James [16 points]
12. Tchami – After Life [16 points]
11. Axwell /\ Ingrosso – Sun Is Shining [17 points]
10. Colleen D'Agostino ft. deadmau5 – Stay (Drop The Poptart Edit) [17 points]
Even though versions of this deadmau5 jam have been flotating around for quite some time, it seems like the final product came back in March thanks to Colleen D'Agostino's vocal edit. The two previously teamed up for "Seeya", but "Stay" highlights a different side of both artists.

9. Kaskade – Never Sleep Alone [19 points]
Kaskade has always been a little bit of a risk taker, so when he decided to take a stab at one of dance music's hottest genres, future house, we weren't too surprised. "Never Sleep Alone" became the soundtrack to many people's Coachella and it has us super excited for the American producer's forthcoming album.

8. Ferry Corsten presents Gouryella – Anahera [22 points]
Even though there hasn't been too many standout trance productions in 2015, "Anahera" was too good to pass up. Corsten revived his Gouryella alias for the first time in 13 years and while it may have been without his old partner Tiësto, the comeback couldn't have been any better.

7. Eric Prydz – Generate [24 points]
It's no secret that Eric Prydz is the King of IDs, so when the highly-anticipated "Generate" finally dropped, fans everywhere were already prepared. The track is classic Prydz and has us eagerly awaiting his debut album.

6. Eric Prydz VS CHVRCHES – Tether [28 points]
We here at EDMTunes are huge Eric Prydz fans, which is why it's not too surprising that the progressive house legend occupies back-to-back spots in our top 10. "Tether" is one of the Swede's more emotional songs and truly knows how to pull at the heartstrings.

5. Flume – Some Minds ft. Andrew Wyatt [39 points]
Any time Flume releases a new tune, the internet seems to freak out. For "Some Minds", the Australian producer returns to the sound that dominated his self-titled album and thanks to some outstanding lyrics and vocals from Miike Snow's Andrew Wyatt, the song is taken over-the-top.

4. Valentino Khan – Deep Down Low [41 points]
On January 1st, 2015, if you would have told me that Valentino Khan would be holding down the #4 spot on this list, I wouldn't have believed you. That being said, On July 3rd, 2015, it would be hard to imagine this list without him. "Deep Down Low" was everywhere during Miami Music Week and the massive bass house booty-shaker is still dominating sets to this day.

3. Nero – The Thrill (Porter Robinson Remix) [43 points]
Ever since releasing the critically-acclamied Worlds, Porter Robinson held off on dropping any new material. The young superstar premiered his remix of "The Thrill" at Coachella, catching those in attendance extremely off guard. Fans should cherish Robinson's take on the Nero tune, as it could be months before we're graced with another production.

2.  Jack  Ü – Where Are Ü Now ft. Justin Bieber [46 points]
Whether you love it or hate it, it's hard to deny the popularity of "Where Are Ü Now". Skrillex and Diplo took a huge risk when they decided to team up with Justin Bieber and to say it paid off would be an understatement. It definitely deserves the #2 spot on this list.

1. Major Lazer & DJ Snake – Lean On (feat. MØ) [69 points]
Even though only 8 points separated numbers 5-2, the race for the top spot wasn't even close. "Lean On" is not only a hit within the dance community, but it's also arguably the song of the summer in all of music. It's also worth noting that Diplo occupies the top 2 spots on the list. As much as people love to bash him, the dude must be doing something right.

While we may have left out some of your favorite songs of the year, there really isn't a fairer way to go about compiling this list. Let us know how you feel about our Top 25 in the comment section.