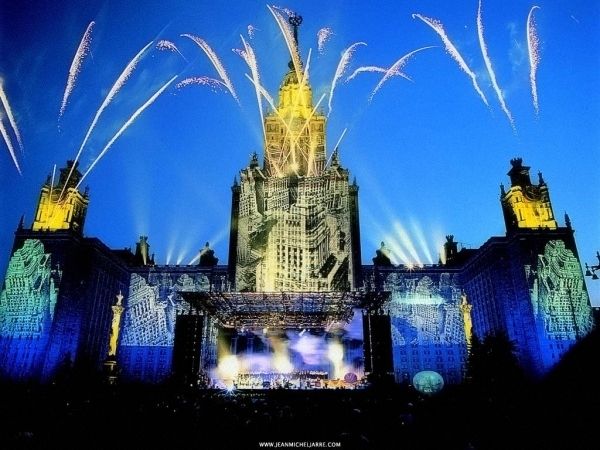 This week has already been quite good for trance music lovers, but it's about to get even better. Armin van Buuren has been working on new music for his upcoming fall album and while some of his newer tracks don't always please the trance purists, he always manages to put out tracks for them as well. For Armin's latest pure trance effort he had to look towards a producer who makes crowds of 100,000 seem tiny. Jean Michel-Jarre is a French producer who not be a known quantity to dance music's newer fans but he is already a legend. He holds the world record for the largest-ever audience at an outdoor event (3.5 million!), and his musical events have been world spectacles themselves. He is known for huge fireworks displays and projecting insane visuals onto buildings.
The reason you may have heard this name recently is because Jean-Michel has been working on his own new album. Over the past few months you might have heard his his name in collaboration with names like M83, Steve Angello, 16 Bit Lolitas, Tangerine Dream, and Above & Beyond. Now Armin van Buuren and Jean Michel-Jarre have created a track called 'Stardust', which will be premiered at Tomorrowland. From the buzz currently surrounding the track online, it has the potential to be the trance track of the year. There will also be several versions of the track, including a festival/club mix which Armin will be debuting at the incredible Castle stage this weekend. Check out the the entire story behind the collaboration below and look out for this one over the weekend.
UPDATE:
Watch Armin van Buuren debut his collaboration with Jean-Michel Jarre at Tomorrowland below.
Armin van Buuren and Jean-Michel Jarre just debuted their brand new track "Stardust" LIVE at Tomorrowland. www.tomorrowland.com

Posted by Tomorrowland on Saturday, July 25, 2015