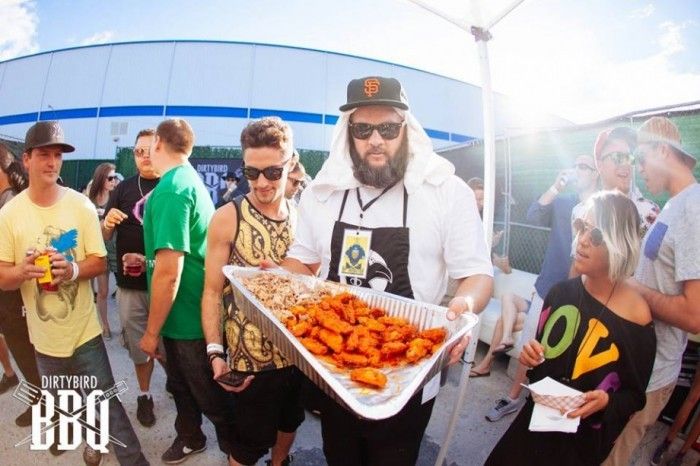 The Dirtybird BBQ started in 2003 and is fast becoming a tradition, celebrating one of the last weekends of summer here in NYC. While it started out in Golden Gate park, like some of the better parties thrown anywhere, the Dirtybird BBQ has made its way to NYC, and after a stellar run last year, it's returned to Brooklyn.
As the video evidence provided by Beatport clearly shows, this party is going to be stupendously dope. It was a triumph last year, and if rumors are to be believed it's going to be bigger, better, and likely even longer this year as well. The talent is top notch, and we've got
Grillson
on the grill again of course.
Dirtybird brings a field of hip hop, jungle and drum & bass infused house that's not very big in NYC. Our house music has more of a disco, funky, deep, & euro flavor to it, so whenever Dirtybird comes around, people go hard. This Sunday seems like it will be no exception. The music is going to be tremendous and I can't wait to munch on delicious BBQ while enjoying one of the last NYC day parties before a lot people head out to that thing in the desert, the Hamptons, or other points South & East of the city for the rest of August.
Claude VonStroke reached the "sells out wherever he spins in NYC" DJ tier, so as a founder of this Dirtybird dopeness, his presence is totally expected, but celebrated nonetheless. His vision of a bouncier, richer, harder style of house is apparent from the second he touches the decks, and I assume it'll be in full effect come Sunday evening.
Justin Martin earned his legendary stripes as well, with his soulful but groovy feeling house taking him all over the world to spin. Here's a mix from South Africa that may convince you he's actually a globetrotter, as opposed to that "international" headliner that played in Vancouver that one time.
You may not have heard of Shiba San yet, especially if you're a little late on the uptake or if you missed Holy Ship! this year, but my #shipfam out there know what I'm talking about. Shiba San is one of THE artists to watch, and I expect his set at the BBQ will totally prove me right. So when he's there throwing down dope ghetto funk, I'll be there in the back, trying not to strut too aggressively.
j.philip is a crucial pickup here. Not only are we adding some lady DJ magic to the headlining list, something I'm always a fan of. But more importantly, she's a stunning success of a DJ. When you're closing Movement, rolling with the Dirtybird crew & pushing out some of the best tech booty bass you'll ever hear. This is the sleeper set of the party, mark my words. People are definitely going to be talking about her set on Monday, so make sure you know what they're talking about.
Last but certainly not least, Kill Frenzy is picking up the rear with some of the best juke-tech (is that a genre yet? Someone ask Claude) you'll hear this side of the Atlantic. The Germans do some of the crispest tech house anywhere, and Kill Frenzy (Seba for our European readers) is one of their princes. The b2b he did with j.philip is hopefully a portend of things to come at the BBQ. But to find out for sure, you'll have to grab your tickets & show up. See you on line for a burger!