Even though it's only been a week since HARD Summer, it's never too early to start thinking about the legendary event company's next affair. HARD will definitely be hosting some smaller shows, but when it comes to large scale festivals, fans are already looking forward to Day Of The Dead. Last year, the extravaganza possessed an unforgettable lineup that was thought to be unbeatable. People might have to eat their words though, as this year's list of acts has potentially leaked and it's ridiculously amazing.
According to the flyer, Day Of The Dead headliners will include deadmau5, NERO, Skrillex, ZHU, Get Real, Gesaffelstein, Snoop Dogg as well as a handful of other artists. Additionally, fan favorites such as Jauz, Brodinski, Marshmello, Kill The Noise, Tommy Trash and of course, Destructo found their ways onto the list.
If this leak is true, Los Angeles' Day Of The Dead has officially become a can't-miss event. HARD has assembled a lineup that features a perfect mix of seasoned veterans and upcoming talent that all have their own unique flare. Once again, Gary Richards and his team have pushed the boundaries when it comes to the dance music festival experience and we can't wait to see what else they have in store.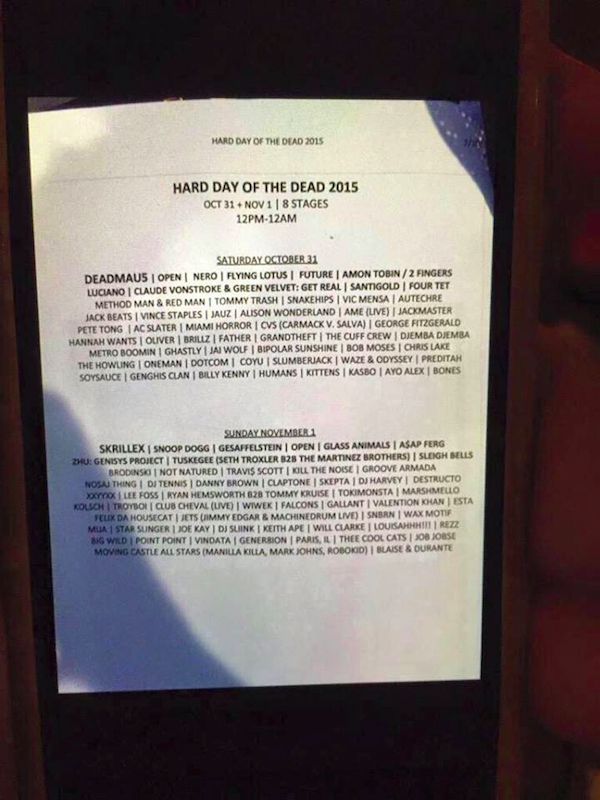 Source: Dancing Astronaut